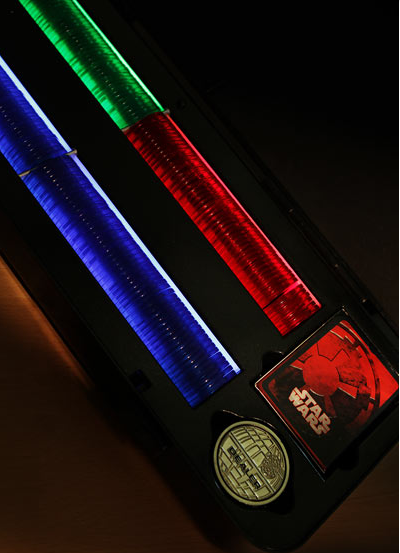 Combine your love of poker, and Star Wars with this slick looking Star Wars Poker Set. We were fortunate enough to check out this awesome set and we totally love it. It certainly has it's way cool features.
This poker set is truly for the hard core Star Wars fangirls and fanboys. The set comes complete with a stack of chips that resemble light sabers and a deck of cards with all your favorite characters from the movies. And I'm serious. The box that these chips come in actually light up making the stacks of chips glow like real light sabers!
The set also contains 2 decks of casino quality cards and 72 LEDs that make this set glow like the millennium falcon in warp speed.
There's also a death star 'dealer button' made out of chromed metal which completes the set perfectly. This is definitely a poker set that will impress all your Jedi friends (certainly the poker set they were looking for.)
Product Specifications
The only poker chip set powered by The Force
200 translucent 10.2 g poker chips that glow like a lightsaber when in light-up chip case

50 Red Chips- Darth Vader
50 Green Chips – Jedi Master Yoda
50 Blue Chips – Luke Skywalker
50 Blue Chips – Obi-Wan Kenobi
Note: Chips do not glow outside of the case, unless the Force is strong within you

Two decks of casino quality poker cards in foil boxes (Rebel Alliance and Imperial logos)
Death Star dealer button in .25″ chromed metal
Heavy-duty black plastic case with 72 LED lights powered by 4 AA batteries (included)
Dimensions: 2.5″ H x 21″ W x 7″ D
This awesome poker set is actually sold out everywhere, but fear not! Our bounty hunters are on the prowl and will update this post the second they become available. Until then, keep poker in your hearts and keep reaching for the stars!*
*We apologize.
Tweet
Pin It