This is a Sponsored post written by me on behalf of Sauer Energy. All opinions are 100% mine.
Have you ever wanted to do your part to save the planet but just didn't know where to start? Well good. Because we just started it for you.
One More Gadget checked out a great new invention from Sauer Energy that helps you save energy and money. And let me tell you, it's definitely easy to be green with one of these residential Vertical-Axis Wind Turbines!
Every month the cost of energy goes up. And we all know it won't be getting cheaper any time soon. So if you are looking for some reliable alternatives, this just might be the answer to save some dollars off your monthly bill. And on the bright side you'll have some left over cash to spend it on something else…like more gadgets for example!
The Goods
1. It's green. Really green. The first benefit is the obvious one, these residential wind turbines can generate electricity for only 6 to 8.5 cents per kilowatt-hour. That's practically what we pay our interns.
2. On a larger scale, if everyone used wind power, it would impact the environment equivalent to taking 2/3 of the vehicles off the road and actually preserve water power and free up more than 450 billion gallons of water per year. That's basically like the size of an Olympic pool! Okay, it's actually bigger. Like a lot bigger.
3. Unlike the traditional fan shaped turbines, this VAWT (vertical-axis wind turbine) is uniquely designed so there is no noise pollution, no dangerous sharp blades, works with wind from any direction and to top it off only takes a 5mph wind to get it going. What a breeze.
4. It saves you money. And that's just the bonus part because what it's really saving is the earth.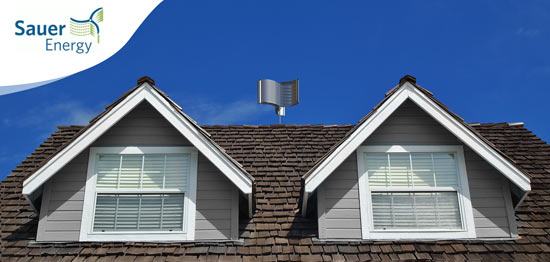 Overall, the new design of wind turbine makes sense. And cents. Personally I think every home should have a good alternative source of energy to reduce the monthly bill and save the environment. And I've come to the conclusion that a hundred hamsters in a generator wheel just isn't viable. They probably wouldn't all run in the same direction. So these wind turbines are the best idea, and there's even a little spot on the top where you can stick your rooster.
Below is video from Sauer Energy with more information on this cool product.
Meet Joe… from Dieter Sauer on Vimeo.
Tweet
Pin It