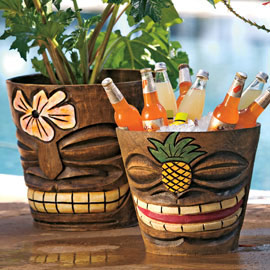 There's nothing I enjoy more than something out of the ordinary. Why would anyone use a regular planter when you can use one of these? Unless you were born in Boring Oregon, you probably can't give me any reason otherwise. Unless you just don't like them. But that probably means you don't like anything. Unless you like everything but these planters. In which case I give up. But anyway.
These high quality resine pots feature a Tiki design with Hibiscus and Pineapple (which is the best). They go great in your backyard, balcony or deck and are perfect for parties. They are designed as planters, but you also can use them as ice buckets for summer entertaining. These bad boys are durable, weatherproof polyresin and hand painted with UV resistant paint. Nice.
I have to add that these make horrible helmets. When you put them on the faces are upside down.
And you can't see out of them.
And when I hit something with them I didn't wake up until the next day, in a ditch.
And I wasn't wearing any pants.
Get your own Tiki Planter Pots here
Tweet
Pin It