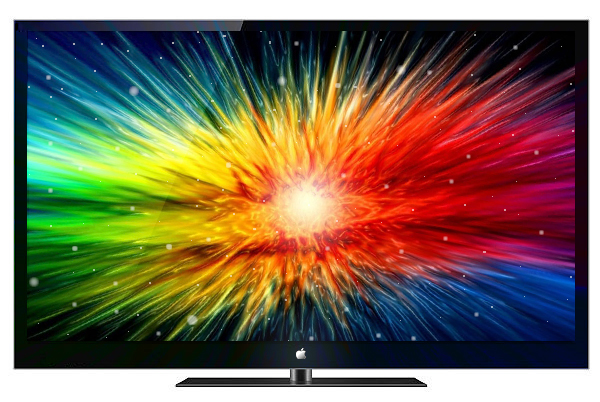 Rumors have been flying around for some time that Apple will be entering the HDTV market early as March 2012. An even more detailed rumor is that they will be releasing three models of their new televisions, 40″, 46″ and 52″ televisions being the likely sizes.
But only time will tell if these rumors are in fact true or just rumors. The big winners will be Intel and Corning and will happily use Apple HDTV to escape the tech bubble that's about to burst world-wide.
So what features would the Apple HDTV possibly have that would make anyone need it, like other apple products, and choose it over other cheaper and perfectly capable devices?
We can assume it will be much more than a television and more like a big computer. You can probably expect the Apple TV to have some of these cool features:
• Built in TV Apps, with a new TV App Store and built in wi-fi network
• A gaming engine. Now that they have your attention, it makes sense for a kinect or wii style device to connect to the Apple HDTV. If they are controlled by a camera in the front of this set, even better. But expect gaming to be a huge part of this, possibly with pretty sweet Apple HDTV controllers.
• Built in Hard Drives and PVR's for recording and sorting through your programs. We suspect they'll have a fancy name for this, TV on Demand or APVR sounds lame, so iWatch, iView and iTV made the list as well.
• Apple Trailers. New theatrical releases at your fingertips, from your couch, just like the original Apple TV.
• iTunes sync which makes your Apple HDTV the control hub and epicenter for your entire homes entertainment and will manage the content on all your iPod's and iPhone's and iPad's wirelessly.
• Facetime. Just don't get caught watching TV in your underwear.
• TV to go. You'll be able to watch whatever is stored on your TV through your iPhone or iPad on the road – while your TV happily rests in standby mode back at home.
• Apple Phone Home. Yup, Apple HDTV will have a call centre, displaying on screen who's calling and showing you a picture as well. It will also sort all your voice mail, visually and keep your address book too.
• Apple HDTV will not only be HD, but have 3D optical display at ridiculous resolution with built in upscaling as well as a new intel chip that produces a cool 900hz equivalent framerate or "motionflow" technology.
• Thunderbolt ports will replace the majority of HDMI ports, however there will be HDMI ports available.
• And of course, maybe there will be something better than LEDs in the future, but at this point it makes sense to have microscopic LED's backlighting this HDTV because everything Apple makes is just smaller than everyone elses.
So there you have it. It may seem all fine and dandy, but we'll just have to wait and see. But don't start waiting in line just yet.
What do you think about the new Apple HDTV? Post your comment below and share this post with your nerdy friends.
Tweet
Pin It