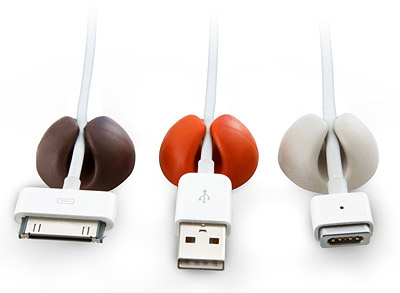 CableDrop Cable Clips are another pretty cool way to stay organized. And if you are a designy neat freak like myself these are perfect for all your mac cables, pens, cords and even memos.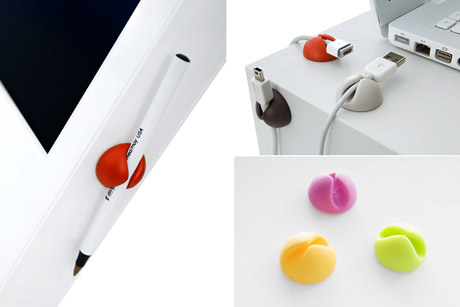 So that's why I love 'em. They are little gadgets for those extra things that just float around and never seem to have a place to go. Pens, pencils, usb wires. Whatever. And there's something really satisfying about sticking these cable clips to things.
It's kinda like sticking gum to the back of someones head that chews their popcorn too loudly in the movie theatre. Satisfying.
We got our cable clips from Budget Gadgets and here's what we think:
What we like:
The price is great. They are squishy. They hold cables and they come in lots of cool colours.

Thoughts:
They are really sticky. Almost too sticky. Once they stick they are hard to pull off. Kind of like chewing gum on someone's head.
Overall we like this gadget. It's simple and adds colour to your desktop while cleaning things up. Ohhhh yeaaaahhhh.
Get organized and get your Cable Drop Clips Here
or Get them on sale with free shipping from BudgetGadgets
COUPON ALERT! Enter GM5OFF11 at checkout for an extra 5% off you're entire order. Score!
Tweet
Pin It