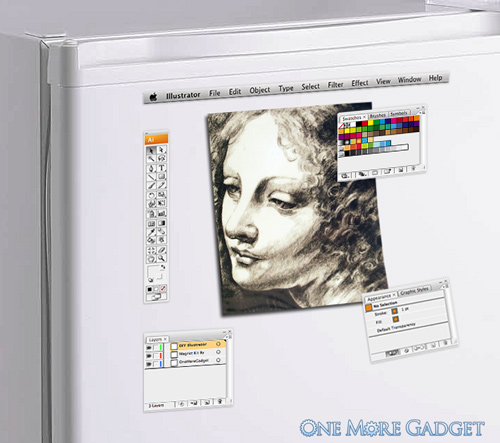 If you love Illustrator and own a fridge, this magnet kit might be for you. It's a sure fire way to make any piece of artwork you have (or your child's) fit right in on your fridge.
DIY: Making your own magnets for your fridge are pretty easy, ignore the bad photoshop job above. For a limited time you can download One More Gadgets very own Do-It-Yourself Illustrator Magnet Kit right here.
Here's how:
Step 1. Follow OneMoreGadget on twitter here.
Step 2. Send us a request via our contact form or leave a comment below. When we get your message we'll send you a link to download the printable PDF. (press quality 491kb)*
Step 3. We'll send the link your way. You'll have 24 hours to download the kit. Once you download that, get yourself some printable magnet sheets from Amazon here.
Step 4. Print them out and safely use an exacto knife or paper cutter to cut out your palettes.
Presto! You now have your own nerdy fridge magnets for you or a pretty neat little gift idea for your artist friend.
Or Dale from electronics.
And might I add, with this kit you also get the cursor too. And a couple Pantone Chip magnets to boot. Yes I know, it's impressive.
With printable magnet sheets you can make almost anything!
Get your own printable fridge magnet sheets here
Let someone else do the work for you and buy a complete photoshop magnet kit here
*Unfortunately our offer for the printable magnet graphics is over. Sorry folks!

Tweet
Pin It