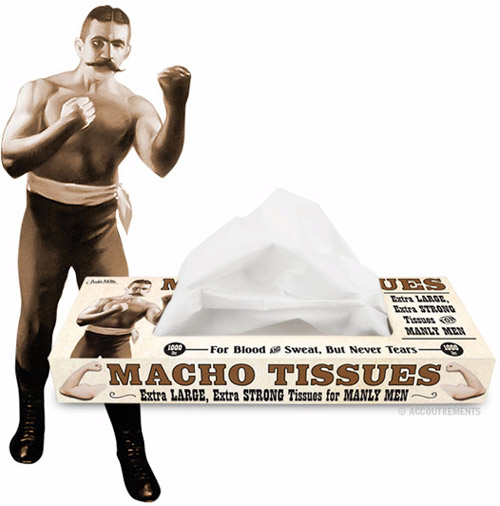 Here is something that is truly all about the packaging, but also has a little extra inside as well. The macho tissues are heavy duty tissues for the anti-wimps. They are extra large, extra strong tissues for all those manly needs. Like one time I took a bullet in the groin. I'm not going to whine here, but I needed one of those Macho Tissues.
Here's a brief guide on when it's OKAY and when it's NOT okay to use a Macho Tissue:
• When you sit in your computer chair and accidentally heel yourself in the nuts – It's okay to use Macho Tissues.
• When your girlfriend demands you watch Bridget Jones' Diary for the 11th time – it's NOT okay to use Macho Tissues. The movie sucks.
• When your impressing a girl by sliding down a bannister and accidentally crush your nards in the process – Trick Question! It's NOT okay to use Macho Tissues. Pretend it doesn't hurt until she vacates the premises and then use your Macho Tissues to wipe your tears.
• When you saw Star Wars Episode One and realized you had to watch an entire movie with Jar Jar Binks in it – Macho Tissues.
Okay basically anything that feels like a heavy impact to the nuts is an acceptable time to use your Macho Tissues.
But also, it goes without saying, if you are man and you have a man cold, you better get a few boxes.
Quit Whining! Get your own Macho Tissues right here
Tweet
Pin It