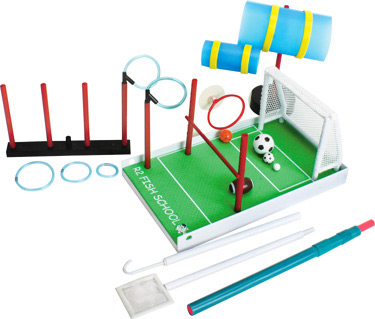 If you think this is fake, think again my friends. The R2 Fish School Training Kit is the real deal. Through ingenious tricks and conditioning you too can have yourself a brilliant fish!
Some Crazy Fish Facts!
• Did you know that a goldfish can be trained through conditioning?
• Did you know a goldfish actually has a memory of up to 4 months?
• Did you know that a goldfish can see two kinds of light? Infrared and Ultraviolet light?
• Did you know that goldfish are orange and therefore awesome? Good.
See I knew all of those, and that's why when I saw this Fish Training Kit I almost crapped my pants. It was a happy day. Minus the crapping the pants part.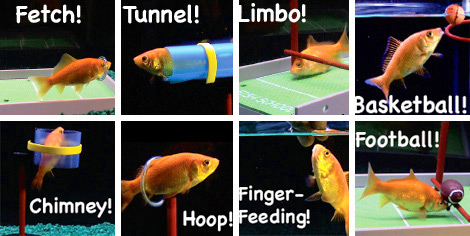 With the Kit you can teach your Goldfish many tricks, such as:
Fetching, swimming through the tunnel, limbo, playing basketball, going through a chimney, swimming through a hoop, playing football, and the most exciting, finger feeding.
A former friend of mine that owned pirhannas tried to train them with this kit. Just so you know, the finger feeding only works with goldfish.
See some videos and get your own R2 Fish Training Kit here
Tweet
Pin It