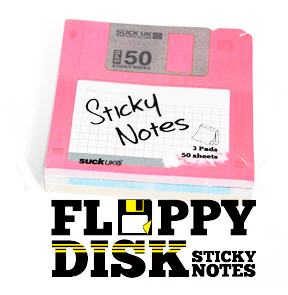 If you don't know what a floppy disk is, you were probably born after 1985.
These floppy disk sticky notes come with 3 Pads in each package with 50 sheets in each set. You'll have enough sticky notes to remind everyone in your office just how awesome the 80's were. That's also about the same ratio of sheets to disks that it would have taken to install Windows 3.1 on a Compaq Presario computer.
These things used to hold a massive 1.44 megs each. Yah I know. Welcome to my nightmare.
Fortunately, these are just paper, and awesome. So go ahead and write on a floppy.
Get some Floppy Disk Sticky Notes and write some data here from SuckUK
Tweet
Pin It