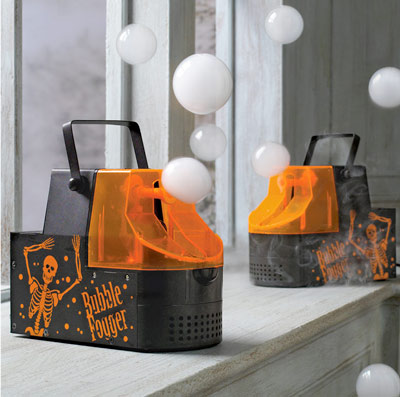 This Foggy Bubble Machine Maker is pretty sweet. It creates bubbles and fills them with smoke. But I know what you are thinking, perfect for Halloween, but that's it. Right? Right? Nope.
This Bubble Machine maker can be used for tons of other things. Like weddings for example. Weddings always have those plain stupid bubbles going off all the time. That's just lame. Most weddings are white, so make the bubbles white too.
How about scented bubbles? That's right! You can mix in any scent you want with the liquid that makes the fog and presto! Scented bubbles. Imagine bubbles that smell like Vanilla when they are popped, or pina colada for a summer party. Now we're talking.
Get your super awesome Foggy Bubble Machine Maker here

Here's some Foggy Bubble Machine Info:
Bubbles and fog all in 1!
Bubble/Fog Machine Combo Pack includes machine, 1/2 pint Bubble Juice and 1/2 pint Fog Juice.
UL Listed.
Made of metal, plastic and electronics.
Please note: Manufacturer recommends cleaning fog tank by draining the fog liquid and wiping fog tank with a damp cloth.
Creates non-staining and non-toxic bubbles.
Power cord measures approximately 5′ long.
Please Note: This machine requires both Fog Juice and the Bubble Juice Solution to operate properly.
Material plastic, metal, electronics, water, propylene glycol, foam
Get your super awesome Foggy Bubble Machine Maker here
Tweet
Pin It