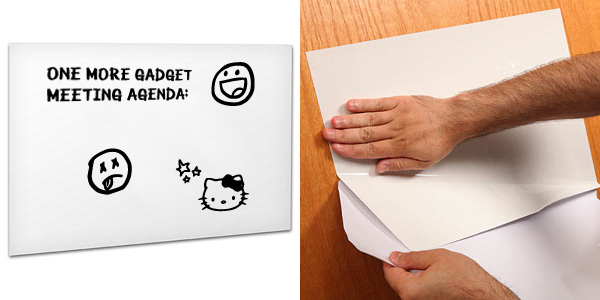 This crazy invention can pretty much allow you to work almost anywhere! Impromptu meetings? No problem!
Want to share an idea so fabulous it needs to be written on a wall for everyone to see? Well look no further!
This Peel and Stick White Board can be stuck just about anywhere, and when you are done, you can peel it off and stick it some place else. Like a fridge.
Fabulous. Okay, I'll admit I wasn't a fan of this at first, but when I realized that you could put it on a white wall, and it becomes practically invisible, I began to disliked it less. I'm still not sold on it though. If this were wallpaper? Maybe.
Glow in the dark? Yes.
Disappearing, reappearing, re-disappearing white board? Now we're talking.
Features:
Peel this vinyl, non-magnetic, white board from its backing and slap it up wherever you need to take notes most.
Stickiness is non-damaging to walls and lasts up to 5 years.
Can be repositioned up to 5 times.
Can be cut to fit unique spaces.
For use with dry-erase markers (not included).
Dimensions: 12″ x 18″
Get your own Peel and Stick White Board and doodle away

Tweet
Pin It