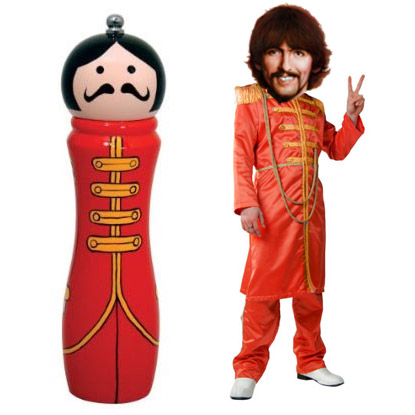 You may not have passed the audition, but you can surely pass the pepper with this awesome Sergeant Pepper Table Top Grinder!
With the striking resemblance to George Harrison from The Beatles, this pepper grinder will definitely spice up your dinner conversation. If you are making a 4 egg omelet, then all you need is seasoning. Or love.
Same thing.
The Facts:
Beatles Sergeant Pepper is 21cm high
Unscrew the tip to fill with salt or pepper
Made from painted beech wood
Can be used for fine or coarse granules
Can I just say this works amazingly? I feel bad twisting the head of my buddy George here, but he doesn't seem to mind. Such a trim waist line, must be from removing all that salt from his diet. And the carbs.
Get your own Beatles Sergeant Pepper Grinder right here
Tweet
Pin It