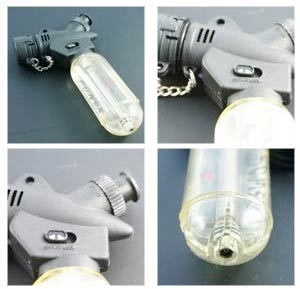 Even though this little pocket blow torch has a:
– Jet flame reaching 2372 'F (1300'C)
– Melts copper, glass, gold, silver, tin, and aluminum
– Safety cover opens only when torch is pressed/on
– Refills from standard butane lighter canister
I still say its just worth getting just for party tricks.
It also features a flame lock to keep the flame on as well as a child-lock to prevent the ignition button from being pressed. This is also a nut saver because honestly, I'd never want to put something capable of reaching scorching point that close to my nuts without some extra protection. If you know what I'm saying.

Hit the jump for your very own nut roasting pocket jet butane lighter
Tweet
Pin It