No, this chair doesn't have a beer holder or a remote, but it's certainly the ultamite chair. With a price tag of $1600 you pretty much can buy yourself comfort for the rest of your life.
You know it, I know it, we basically spend our whole lives sitting on our asses anyways, we might as well do it in style.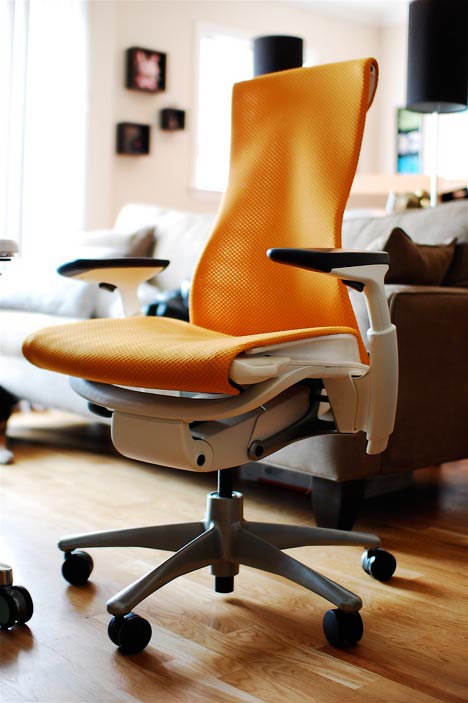 Oh yah, did I mention it was orange? Cause it is and that makes it even more awesome. The Embody is a one up on the old Aeron in a huge way.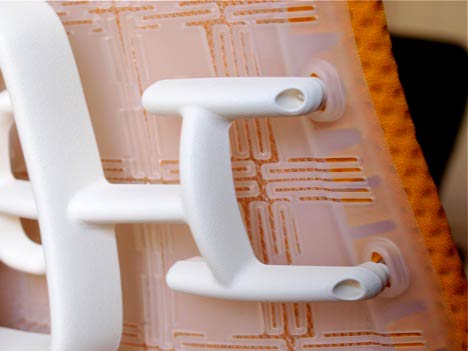 The Embody is a huge improvement over the Aeron. A series of complex mesh layers provide ample cushioning. The gridlock maze-like feature on the back is more than just an aesthetic design decision. With a twist of a knob, they tighten or loosen providing the perfect amount of support. The arm rests slide up and down. The seat slides forward for those with longer limbs. Height and drop tension are ingenuously controlled by a knob/joystick combo. The Aeron had multiple switches and knobs to manipulate a partial list of features the Embody possesses. The new control system helps maintain the Embody's sleek profile by consolidating all those controls.
Hit the jump for more info on the newest Herman Miller Chair (that I love).
Tweet
Pin It