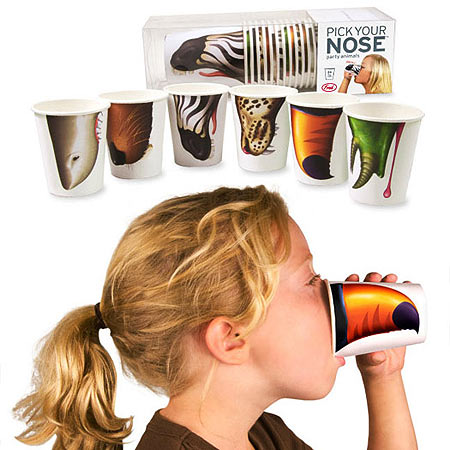 If you're anything like me you'll think these party cups are awesome possum! The bees knees so to speak. The cats meow if you please.
You get the idea.
Now you can drink your favorite beverages and look like a crazy party animal when you throw one back. So with this in mind, I've put together a handy little guide on how to choose which animal snout is right for you:
• If you are the type to get tipsy and heaver, you should probably pick the beaver.
• But if you're in it to win it and don't plan on going home alone, I definitely recommend the Tucan. Because really, I can, you can? Tucan.
• If you're the type of person to blend in with your surroundings, your best bet is the Chameleon cup. Hide out in the corner by the pile of jackets while you're at it. No one will notice you, plus you might pick up some loose change.
• If you are self professed apple geek, you probably should pick the leopard. But don't try picking up ladies by talking about how OS X.5.1 upgrade slowed down your desktop. Just because you have the cup to match – doesn't make it cool.
• If it's a poker party, definitely use the shark, but if it's not a poker party, never use the shark. The only type of people that use the shark are people that wear white sunglasses and we all know that means you are a douche-bag.
But anyway, whatever you choose to be, each awesome package comes with 6 different animals and 24 cups in total. It's basically an animal farm in each package! And right now, these bad boys are on sale! Saweeet! {Buy It}
Pick your own 'pick your nose' cups  from BaronBob here
Tweet
Pin It