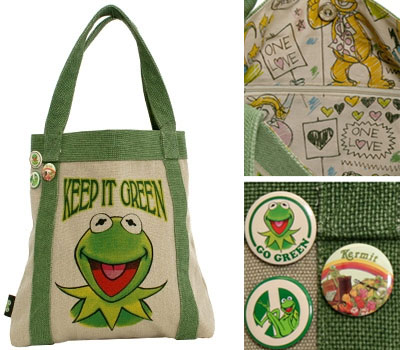 The Kermit Canvas Tote comes with three retro buttons and other Kermit words of wisdom. Kermit was pretty wise, for a frog. He reminds me a lot about myself. Yup. I think about things too.
It actually got me thinking, why there are so many songs about rainbows? So I stopped to think about it and there was only a few I could think of. Like these for example:
Somewhere over the rainbow – Judy Garland
She's a Rainbow – Rolling Stones
She Talks to Rainbows – Ronnie Spector
Sunshine, Lollipops & Rainbows – Leslie Gore
Neon Rainbow – Box Tops
Rainbows End – Modern English
Mr. Rainbow – Slap Happy
Rainbow – Mariah Carey
Okay, I guess  that's a lot. It almost makes me want to have a conversation with Kermit to see if he actually got the answer he was looking for.
Get your own philosophical bag of kermit here
Tweet
Pin It