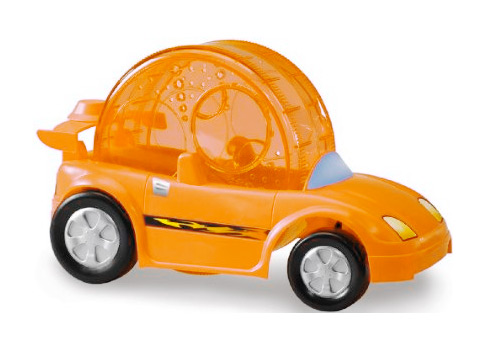 This Super Pet Critter Cruiser is a way better product than the Hamster Soccer Ball. Trust me on that one.
You can now put your hamster, gerbil or mouse in the driver's seat with a pimpin' ride to boot. It has some pretty neat features, like the ability to put the car on a race track (Hamtrac sold separately), or even put it in stationary mode for your hamster to run in place.
The cars comes in a variety of other colors like blue or barbie pink and really scares the crap out of cats. The only thing missing in this baby is the passenger seat and the sucky thing is, this car doesn't turn, and has no airbags.
Still, overall the safety rating was 100% higher than the soccer ball. Mainly because people kicked that. And that was stupid.
Get your Super Pet Hamster Critter Exercise Cruiser here
Tweet
Pin It