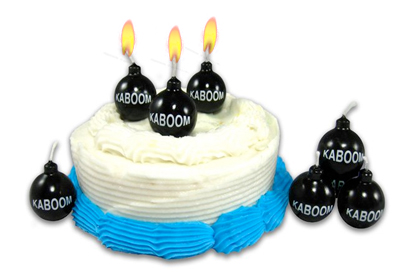 Yeah that's right. Real cartoon bombs. That's possible.
Big birthday bash coming up? Need too many candles for your cake this year?
Well maybe a couple candle bombs will do the trick. Each candle set comes with 6 little bombs ready to go KABOOM on your birthday cake. They even fizz and sparkle once they are lit to add to their effect. Pretty sweet!
So if you dare, drop these bombs on your cake and head for the hills!
Over the hills that is.
Get your way cool bomb birthday candles right here
Tweet
Pin It