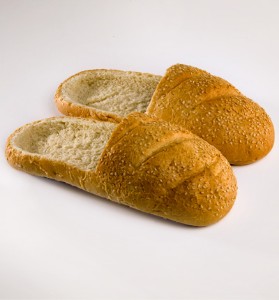 By the same people that brought you, well, nothing. Introducing bread slippers! A whole new level of comfort. Now my feet will happily smell like freshly toasted bread and not freshly dead roadkill. Well, not really. These bad boys actually just appear to look like bread. But bread, they are not.
They happily come in many types of rolls, and even little Kaiser buns for the kids.
Get your own toasty slippers here and rise out of bed
*Sorry about the puns. I was on a roll.
**No bun intended.
Tweet
Pin It