It's a rarity to find something so inventive that it transcends gadgets and gets posted here, but this one definitely is one more gadget: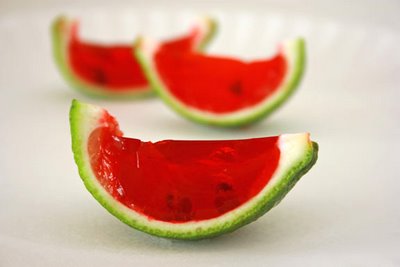 Mini watermelons are just another neat little jello craft idea for summer that I like. If you remember the orange ones featured in my top things from 2008, they are pretty much just like that, but red. And with limes. And look like watermelons.
The Recipe:
Petite Watermelons
2 limes
1 small box of red Jello
mini chocolate chips
(those become the seeds!) If you are anatomically correct I might also recommend using white chocolate chips for the white seeds (you're welcome Martha).
Cut both limes in half lengthwise.
Scoop out all the fruit with a spoon.
Place the limes in a muffin tin to keep them from tipping over.
Make the box of Jello according to the Jiggler directions.
Carefully spoon Jello into the limes halves.
Chill until almost firm.
Using a skewer push the mini chocolate chips into the Jello for "watermelon seeds."
Chill until until firm, then cut into slices.
There you have it!
Kudos to Chocolate Cranium who was nice enough to share this "gadget-like" recipe.
Tweet
Pin It