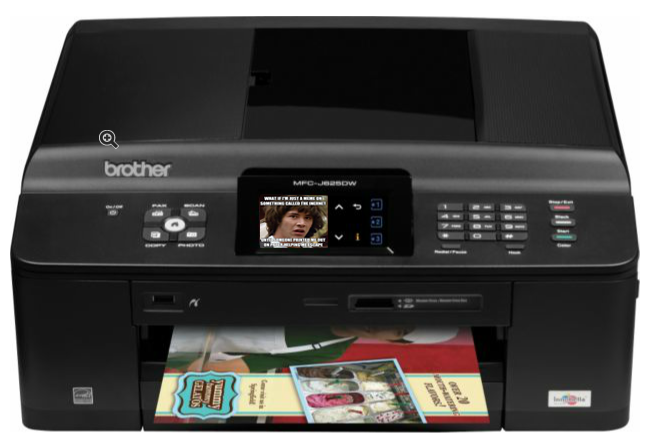 Introducing the MFC-J625DW Wireless Colour Inkjet All-in-One Printer. Despite it's catchy name, this printer has all the bells and whistles that make it the cream of the desktop printer crop.
When I first set up this printer from Staples I was impressed by it's sleek design and compact size. It IS in the category of desktop printers, but it's wireless function can have you setting it up everywhere.
My 2 favorite things about this printer, besides it's great quality prints is the 1.9″ LCD display.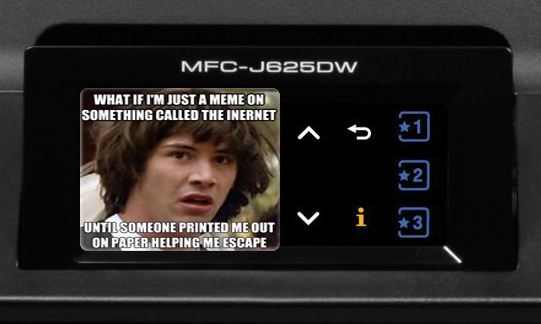 It's real useful and quite intuitive to boot. Even airheads can use it.
The second great thing about this printer is the 4-cartridge system. From my vast printer experience, having inexpensive ways to refill the tanks is a money saver, big time, and these chipless cartridges are perfect for that.
A slew of some of the other top features of this printer are:
• Prints, copies, scans and faxes
• Prints 35 pages per minute and even 27 pages per minute in colour
• Flatbed scanner is 1200 x 2400
• Save paper with two-sided printing
• Print images straight from your Apple or Android mobile devices (this is awesome)
• Energy Star qualified
• It's wireless!
In a age where most things just exist digitally and on the internet, how about making them a reality with this printer? The technology that went into this great printer is really amazing. I love it. I tried to think about how it's actually possible to create something so awesome yet be so darn affordable but I couldn't. I just couldn't do it.
I just ate my lime chips instead. Then my head exploded.
Want a chance to win this awesome printer? Check out our facebook page to see the contest details!
Tweet
Pin It