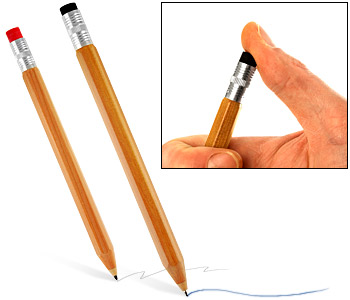 For some reason, people with pencils always look smarter. I think it has to do with the fact there is so much precise preparation that goes into making a pencil work the way you actually want it to. Personally, I'm too lazy to sharpen and erase so this thing is perfect for me.
Its a pen that looks like a pencil. Basically a pencil poser. But the cool kind. Not like the chicks that dress like dudes.
Oh yah, this also comes with a pretty sweet display case, but doesn't look like anything you should put a pen or pencil in, further continuing my mind boggling confusion.
Click the jump to continue your frustration of finding the right pen in your pencil drawer
Tweet
Pin It