Becoming a sushi chef now is super easy. I project this invention will be the most given Christmas gift this year. Possibly all-time. And, probably cause the downfall of every sushi restaurant in the entire world. Possibly the universe.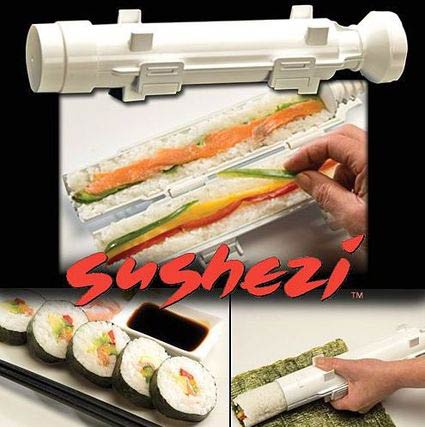 This awesome little perfect Sushi Tube makes it easy to create restaurant quality sushi at home. Three simple steps:
1. Simply stuff with rice
2. Choose your filling
3. Push that stuff out
It's effortless to enjoy a tasty delicacy at a cost you can truly afford. Why?
Because its plastic.
Sure, they mention nothing about what to put in your rice to make it really sticky, and how your ingredients should probably be fresh and properly prepared before hand, but seriously, the craft of sushi isn't really a craft, it's eeasseee, its Sushezi.
The process is also interesting. It reminds me of the process when eating Sushi as well:
1. Stuff yourself with rice
2. Choose your filling.
3. Push that stuff out.
Hit the jump to buy your very own Sushezi
Tweet
Pin It