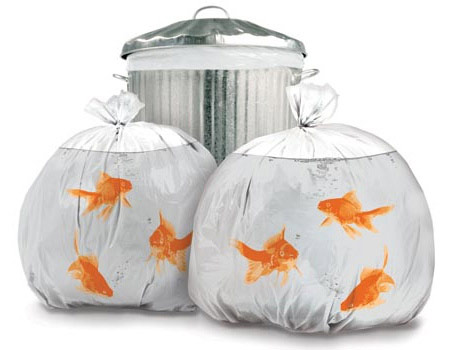 I love these. These Goldfish Garbage Bags are simple and very very cool. The idea of throwing these away with the garbage upsets me because they are so cool. I'd rather use these as storage bags or something else instead.
Remember that feeling when you buy a new goldfish? Nothing is more exciting than that adventure home carrying the goldfish in the plastic bag on the seat of the car.
Did you know that a goldfish, if properly cared for, can live up to 40 years? My cousin had a goldfish in a big tank in the kitchen for probably 20 years. And I had a goldfish in a bucket in the backyard, waiting for my outdoor pond for a good 12 years.
Did you know that a goldfish can be trained too? And it can remember things for up to 4 months! Yup. Just as I presumed. Genius.
So many myths about goldfish proven wrong here today, but beyond that, and beyond being able to see two kinds of light, infrared and ultraviolet, the goldfish are cooler for one other thing.
They are orange and they are now on garbage bags.
Those are some seriously happy sacks.
Get your own sweet goldfish garbage bags from SuckUK

Tweet
Pin It