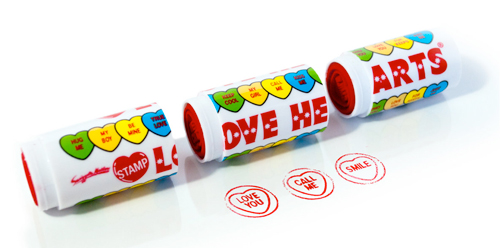 Here's some love that's totally sugar free but just as sweet! Love Stamps. Awesome little stampers with our favorite sweet heart candy phrases!
Amazingly these little red stamps of passion demonstrate a progression of my 'three date' rule: The first date you "Smile". The second date you "Call me". The third date its all "Love You".
Ah yes, but if only it stopped there. Although I guess it's never a good idea to make a stamp that says "3 am booty calls, don't answer the phone, skip town, change your number, call police and get a restraining order".
Love. It ain't easy.
But. If you are one of the lucky ones to have a real Valentine, instead of candy this year, why don't you give your little sweety one of these instead? Write your honey a love note and seal it with a love stamp just to make it official.
Yup. Love Stamps. It's all you need.
Buy these Love Stamps right here, you're gonna love me for it
Tweet
Pin It