The TOMY xiao digital camera comes with a built in ZINK printer. What the heck is that?
Okay, so they have invented a digital camera that prints pictures, is it just me or isn't this exactly like a polaroid camera? However inkless, the trick is in the zink paper, but something about this falls short of being amazing. Lets take a closer look: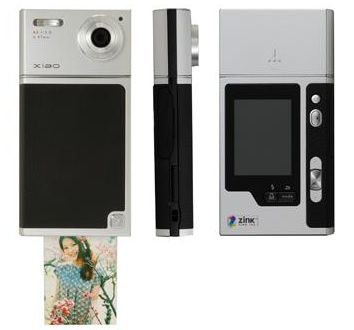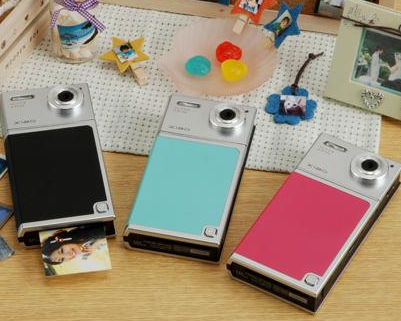 Let's first start with the Camera part. Its a fully functional 5 megapixel camera with a retro style design. Functionally, the design allows it to hold the paper that you print on, but it also looks good too.
The xiao™ is a first of its kind integrated digital camera and printer that allows consumers to capture, view, and immediately print their digital images without ink, anywhere. Photos can now be viewed and shared right away – anywhere and all from one device. The xiao™ produces borderless, full-color, 2×3″ (5×7,6 cm) prints in less than 60 seconds.
Unfortunately this item will only be available in Japan by November 28, 2008 for purchase, but I am sure if most people find this new age Polaroid/digital camera useful and cost effective then it will surely hit the North American market in following months. Personally, I prefer to retouch my photos for blackmail, ahem I mean Kodak moments in photoshop before printing them and posting them everywhere in public, er..facebook.
Some features are:
Digital Camera
5.0 megapixels, 4x digital zoom
2.48″ full color LCD display
16MB internal memory, supports SD/SDHC memory cards
Multiple flash modes
Rechargeable Lithium-ion battery and AC power adapter
IrSimple/IrDA receiver
Dimensions Approx. 149.5 x 74.5 x 25mm, ~294g (with battery)
Built-in ZINK Printer
Powered by ZINK™ Zero Ink™ Printing Technology from ZINK Imaging
Prints 2″x3″ (5×7,6 cm) borderless, sticky-back ZINK prints
Durable photos – smudge-proof, water-resistant, virtually tear-proof
Fade-resistant, long-lasting image
No ink too! Wow.
Hit the jump for full specs and info on this nifty Polaroid camera of the future
Tweet
Pin It