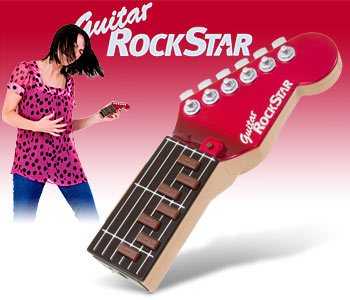 Oh you think that girl looks lame too? Good I feel better.
Well whatever you think it is, it was my idea. They stole it, but I'm featuring it here anyways. Its a little device that lets morons that can't play the guitar jam on mid air with this handy little toy. Yah, really eh? I have no idea what the heck I was thinking. This can't be good. Maybe you should learn how to play a real guitar anyways? Its pretty easy. I can teach you. No? Okay, I'll go on.
In one mode you can play along to 8 rock classics – 'Wild Thing' by The Troggs, 'Smoke on the Water' by Deep Purple, 'I Love Rock n Roll' by Joan Jett and the Blackhearts, 'One Vision' by Queen, 'I Believe in a Thing Called Love' by The Darkness, 'Take me Out' by Franz Ferdinand, 'Venus' by Shocking Blue, 'Change the World' by Eric Clapton, or in its second mode you can free play with all chords from A to G.
Yah, well if they made the one I thought of it would have chords from A to Z and would totally have meat loaf in there. Some of the best air guitar sessions are the ones that last 90 minutes. Meat loaf. Needs the meat loaf.
Yeah.
Hit the jump to get your own air guitar.
Tweet
Pin It