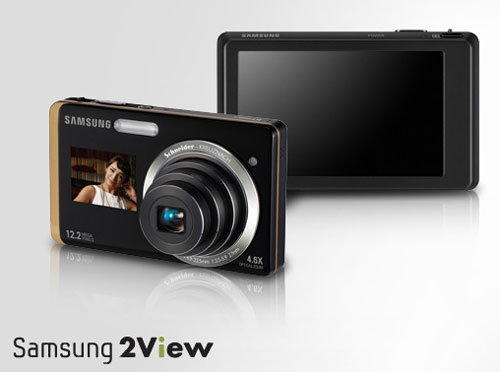 The Samsung 2View ST550 camera is quickly becoming one of my favorite pocket digital cameras.
Samsung's breakthrough technology makes it easier than ever to get a perfect shot with this revolutionary 12.2 megapixel camera with 4.6X optical zoom. You'll find the wow factor in the world's first Dual LCD display: tap the front of the 1.5" LCD display and the Self Portrait mode automatically comes on for a perfect shot on the first try. Flip the camera over and tap the giant 3.5" touch screen back LCD to display the sharpest images of any camera available today. Naturally a camera this smart is also rock-steady with Advanced Dual Image Stabilization for unparalleled image clarity.
The  biggest seller for me is the ridiculous 27 mm wide angle lense. That my friends is insane. Oh yes, and it also comes in orange.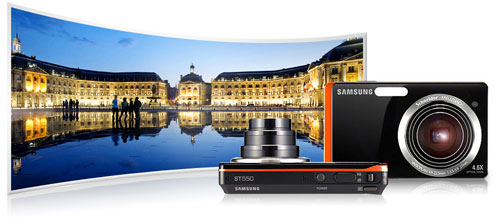 There are also crazy features like a hi-definition LCD screen on the back that can hook right up to your HDMI port on your TV. It also has the best facial recognition and auto shoot modes around, plus selective focus using the touch screen on the back. You just touch what you want and it focuses right in on it.
And something that I would use every single time is this:
Advanced Dual Image Stabilization
The Advanced Dual Image Stabilization combines optical and digital image stabilizers to capture crystal-clear, blur-free shots without using a flash or tripod. Optical IS intelligently compensates for hand trembling by shifting the lens and the Digital IS automatically takes over to ensure blur-free images.
Me likey.
Click here for more information on the Samsung 2View ST550 Camera
You can buy the Camera here in orange, red, blue or gold
Detailed Specs Below:
Image sensor
Effective Pixel | approx. 12.2 megapixels

Storage
Media | internal memory: about 55 MBexternal memory (optional): Micro SD  (up to 4 GB guaranteed), Micro SD (up to 8 GB guaranteed)

Interface
Video Out AV: NTSC, PAL (user selectable)SCC-AV34 HDMI 1.2: NTSC, PAL (user selectable)(1) DC power input 4.2 V, 34 pin

Physical Specification
Dimensions: (WxHxD) 99.8 x 59.8 x 18.6 mm
Weight:  165.7 g (without battery and card)
Operationg Humidity: 5 ~ 85%

Movie Clip
Recording: with audio or without audio (zoom mute), (max recording time: 20 min)size: 1280 x 720 (30 / 15 fps) high quality, 1280 x 720 (30 / 15 fps) standard quality, 640 x 480 (30 / 15 fps), 320 x 240 (60 / 30 / 15 fps)(2)
Effect: color style: Normal, Soft, Vivid, Forest, Retro, Cool, Calm, Classic, Negative, Custom
Edit: pause during recording, Still Image capture, time trimming

Still Image
Shooting: Smart Auto, Auto, program, Dual IS, scene, movie clipSmart  Auto: Portrait, Night Portrait, Backlight Portrait, Macro Portrait, Backlight, Landscape, White, Action, Tripod, Night, Macro, Macro Text, Blue Sky, Sunset Sky, Natural Portrait, Natural Greenscene: Beauty shot, Frame Guide, Portrait, Children, Night, Landscape, Close up Text, Sunset, Dawn, Back Light, Fireworks, Beach, Snow photo style selector: Normal, Soft, Vivid, Forest, Retro,
Cool, Calm, Classic, Negative, Custom RGBimage adjust: sharpness (Soft+, Soft, Normal, Vivid, Vivid+), contrast (Hight+, High, Normal, Low, Low+) , saturation (++, +, Normal, -, –) image edit: resize, rotate, trimming
photo style selector:
Normal, Soft, Vivid, Forest, Retro, Cool, Calm, Classic, Negative, Custom RGBspecial effect: Color Filter, Elegant, Add Noiseimage adjust: Face Retouch, Brightness, Contrast, Saturation, Red Eye FixACBFunny Face: Face Retouch (level 1, 2, 3), Red Eye Fix, Snow, Mosaic, Highlight
Sharpness
Soft+, Soft, Normal, Vivid, Vivid+

Date Imprinting
date & time, date, off (user selectable)

Power Source
rechargeable battery: SLB-07Aadaptor: SAC-48,
CB34U05connector type: 34 pin(3)

System Requirement in general
For Windows Intel Pentium 4, 3.2 GHz or later / AMD Athelon 64FX, 2.6 GHz or laterminimum 512 MB RAM (1 GB and above recommended) Windows XP SP2, Vista 250 MB (over 1 GB recommanded), CD-ROM, drive USB 2.0, Microsoft 9.0c or laterover 1024 x 768 pixels, 16 bit color monitor or later (1280 x 1024 pixels, 32 bit color recommanded)over 64 MB video card (nVIDIA Geforce 7600GT or later / ATI x1600 series or later)

System Requirement for 720P H.264 Movie
For Windows Windows 2000 / XP / Vista
For Macintosh Mac OS X 10.3 or higher
Click here for more information on the Samsung 2View ST550 Camera
You can buy the Camera here in orange, red, blue or gold
(but I'd recommend the orange one)
Tweet
Pin It