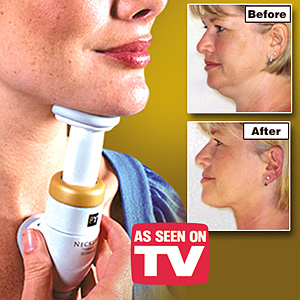 I'm not going to be the one to tell you this is the perfect gift, because it isn't. It's the worst gift you could ever give someone. Unless you wanted them to dump you. In which case, best gift ever.
Even if you have a friend that's a pelican it's still not a recommended gift. (A pelican is my derogatory term for someone with a double chin which has given up on being a double chin and just decided to hang out for awhile. Basically like a hammock. Hammock of chins if you will.)
The neckline slimmer is however the best gift you can give yourself since it actually works*.  It's pretty much aerobics for your face. Just 5 minutes a day is about the equivalent to chewing gum for a few hours. And I'm not talking about polite chewing. I'm talking about lock jaw, cow grinding, hockey coach chewing. The real deal.
Anyways, don't take my word for it, or even the badly photoshopped sample above using the liquify tool. Try it for yourself.
Get your very own pelican removing neckline slimmer here
*Thanks to Dave for the heads up, and down, and up – that claims it works. Shame on you!

**Update: Thanks to Jackie for sharing her opinion that nothing works – but good old fashioned exercise, of course!

Tweet
Pin It