I didn't really need an SDHC USB 2.0 card reader but when I saw they came in orange and purple I instantly became another customer. When the day finally came and I got my card reader in the mail, I learned they also came in beige.
Beige.
So I'm going to talk a little bit about its performance instead.
A great bonus of this thing is that it's small enough to fit in your pocket, and you can close the cap with a memory card inside. That means you can use this as an expandable USB stick if you feel nerdy enough.
The transfer time was excellent for an item under 5 dollars, and amazingly it was reliable every time.
The quality of plastic is so so, but it takes quite a lot of pressure to snap this baby shut. I get a little worried every time I force it closed because it feels like it will break.
I secretly push on it hard anyways, even after its closed because its beige.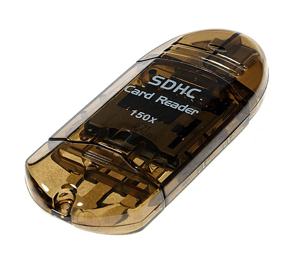 Buy your own handy SDHC 2.0 USB Card reader in orange, purple…and beige.
Tweet
Pin It