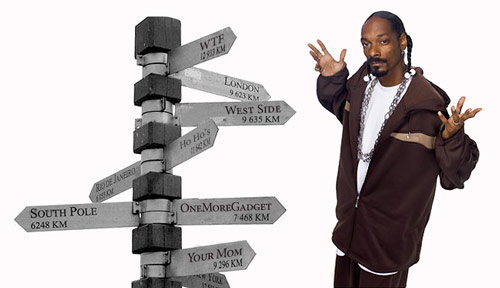 The TomTom GPS might be my new favorite gadget, because once you have the power to customize something it becomes so so much better. Like adding voice skins for example. Once you download the Snoop Dogg voice skin for the TomTom GPS, you will instantly be given the quickest directions to the West Side, Snoop style.
Just follow these super easy directions and you can install any voice you want on the TomTom.
1. Just download the voice file from voiceskins.com
2. Plug in your TomTom to your computer
3. Drag your voice file into the voices folder on your TomTom
4. Go to your preferences on your TomTom and pick the voice you want.
Super easy. And rad. Check out a video of the Snoop Dogg Voice Skin in action.
A company called Locutio Voice Technologies creates these voice skins with 100% real celebrity voices.
Here are some other voice skins that can be found online for the Garmin and TomTom GPS:
Michael Caine
Ozzie Osbourne (it swears)
Bleeped Version Of Ozzie
Scary Spice
Austin Powers
John Cleese
Clint Eastwood
Justin Moorhouse
Stephen Hawking
George Bush
Sean Connery
Patrick Stewart
Marilyn Monroe
Dr. Evil
R2D2
Darth Vadar
Homer Simpson
Yoda
Mr. T.
And quite possibly my all-time favorite, Knight Rider from NavTones.com
BUT, if you are too lazy to do the skins and you like Knight Rider, I found this pretty sweet gadget called the Mio Knight Rider 4.3″ GPS Navigator complete with lights and sound just like the beautiful 1982 Trans Am from the original 80s Knight Rider series. Ah, memories.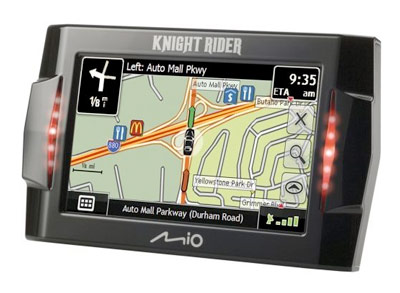 All and all these are pretty awesome gadgets for your car, who knew getting lost could be so much fun?
Get your own Knight Rider GPS here
Get yourself a TomTom here
Or our personal favorite GPS, the Magellan Roadmate 1440 here

Tweet
Pin It