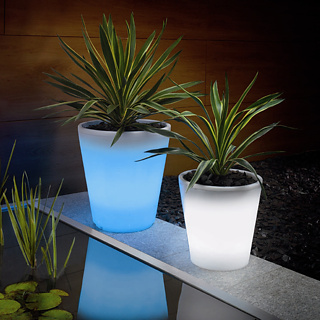 These pots are pretty sweet. They hook up to a solar panel and charge during the day so they can glow all night. I can't speak for the plants, but they look pretty happy to be doing that photosynthesis business all night long, all night long. All night.
Lionel Richie stylez.
Features:
6 LED lights (9 LED lights for the colour changing version)
On/Off switch control
Eco-friendly: doesn't require mains electricity to power the pots
Solar Cell is connected via a 3m cable, so you can place in the sun!
Charging Guide:
Set the power switch to "off"
Leave the batteries to charge for 2 days under full sunlight (repeat this operation every three months to top up the batteries
For daily/normal operation, push the switch to the "on" position, it will automatically turn on during the night time after it has had an initial 2 full sunny days to charge
Hit the jump to learn more about the Solar Powered Pot right here

Tweet
Pin It