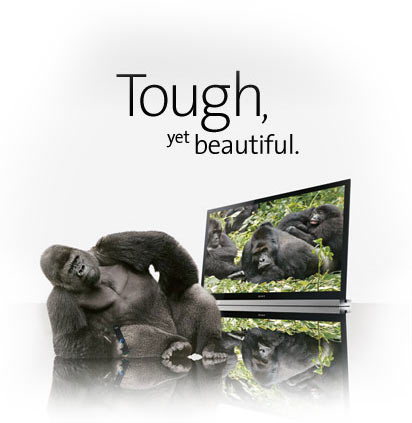 Sony has announced that all their latest HDTV's will be coming out with Corning Gorilla Glass nationwide. And even though it was just as I had predicted, and hoped for, I'll admit I went ape when I heard the news.
But as with everything new, there's always a skeptical look at whether it's worth it and can it actually improve the picture of something that seems so close to perfect to begin with.
Well let me answer that for you. The answer is yes.
It's awesome and I'll tell you why.
Corning Incorporated (NYSE:GLW) teaming up with Sony is a good thing. A real good thing. Sony never let you know before, but the HDTV's before were thick. Okay, they were thin, but still thicker than they needed to be. And because they were thicker and made with another glass, there was some weird things happening that only someone with a very keen eye would notice. Despite the anti-glare film they had to put on them, thicker glass creates fine vertical streaks on bright whites and fast moving pictures. It's not as big as I make it out to be, but they were there.
It's true that potentially only half a percent of people would notice this and due to the makeup of all pieces of glass, the density and appearance of these lines would vary from panel to panel. So if you have a SONY Bravia HDTV already, odds are you still will love it, it's just not going to be as awesome as a SONY HDTV with Gorilla Glass.
Corning Gorilla glass is only 0.7mm thick and allows for the glass to go completely to the edge of the set. This produces the best looking design for a television that you'll probably ever see. It even looks amazing when the tv is off.
The benefits of Corning Gorilla glass make the TV even lighter and the glass is the toughest and most durable of it's kind as it's strengthened at a molecular level. The new glass is literally a break-through in glass technology.
Without effecting the picture in any negative way, Gorilla Glass and Sony produces a perfect image that's just awesome. Now all I gotta do is start saving my pennies.
Check out some Bravia TV's with Gorilla Glass from Amazon here
Tweet
Pin It