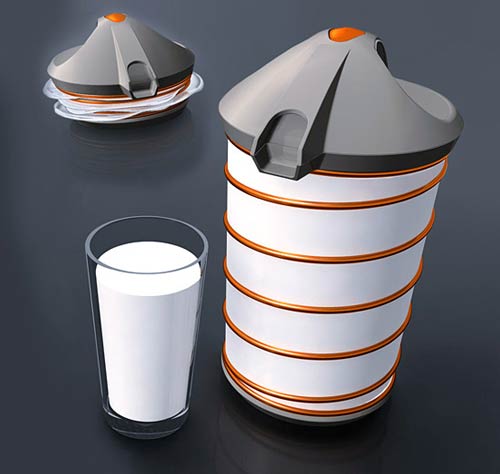 This flexible container works like a spring. Push a button on the top and a valve opens, and as you press down on the container, the milk is forced out. As you continue forcing out the milk, the container gets shorter and shorter.

If this clever design concept, an entry in the James Dyson Awards competition, can actually keep milk from spoiling for an extra week as it claims, it deserves to be a winner.
Well let me tell you, the design was orange, so of course it deserves to be the winner. And seriously, whoever is brave enough to drink milk after the expiry date and invent something that even goes there totally should win.
I always feel like I am going to die when I do it, that date is pretty much written in stone. Kudos my friend. Kudos.
More information on the Shrinking Milk Jug here
Tweet
Pin It