There's something very 'Prison Break Season 4' about this.
This product is somewhat useful. I suspect you would want this if you plan on stealing your buddies pornography off his iPod while he's in the bathroom. He'll never know. This thing automatically recognizes when you plug in your iPods, PC or Mac formatting and can transfer a 30 minute video in three minutes. (which should be plenty of time to get what you need.) If you know what I'm saying.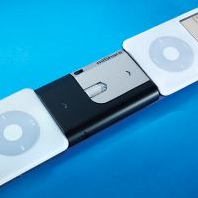 The rechargeable battery lasts up to about 1 hr 30min between transfers, but the price deters me. Around a hundred dollars doesn't seem like a good deal. This is after all the future, and we all know leud photos should be free.
Hit the jump for more information on the iPod to iPod transfer device
Tweet
Pin It