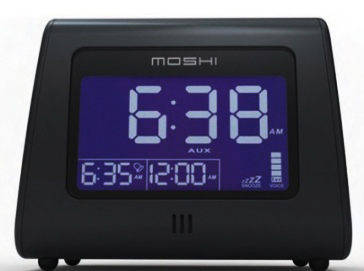 Introducing Moshi, a stunning alarm clock with all the bells and whistles. And unlike other clocks, when you talk to this one, it talks back.
The Moshi Voice-Activated AM/FM Digital Clock Radio is the world's easiest-to-set alarm clock. To wake her up, just say 'Hello Moshi' and she's right there with you. Moshi comprehends any English-speaking voice and is so accurate that it can operate effectively even with substantial background noise.
And trust us, we put that to the test. Big time. We even tried using a Mr. T impersonator, Moshi did a pretty good job. And she pities the fool for trying.
Moshi responds to 11 voice commands used to set the time, choose alarm sounds, turn on the radio, snooze, and much more.
And did I mention this clock just feels so gosh darn nice? She's soft. Real soft.
Velvety almost.
Me likey.
Featuring high-quality stereo speakers, Moshi includes a digital AM/FM tuner, six station presets, and a line-in input (cable included) for hooking up external audio sources like an iPod. And speaking of table manners, if you tell her thanks, she happily says "you're welcome." Then pities you for not knowing the time in the first place.
Get your cool Moshi clock radio from Vat19 here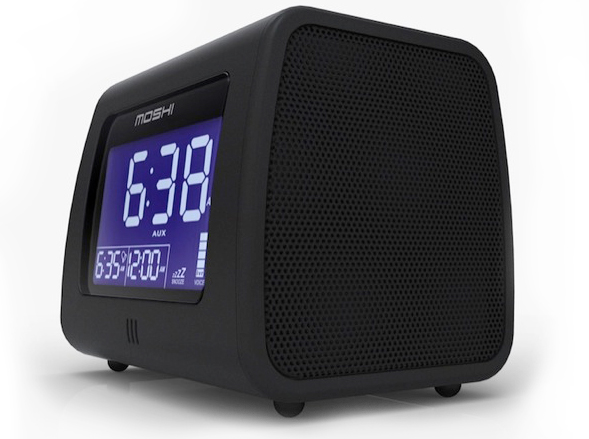 Features & specs:
Dimensions: 5.2″ x 3.8″ x 3.9″
Responds to 11 voice commands
Power: AC/DC with backup power via 3 AA batteries (not included)
Backlit LCD screen
Digital AM/FM tuner
Stereo sound
6 station presets (3 AM, 3 FM)
3 alarm sounds
3 sleep sounds (we give them a 5 out of 10, unless you like big waves)
Plays iPod or MP3 accessory via included line-in cable
Get your cool Moshi clock radio from Vat19 here
Tweet
Pin It