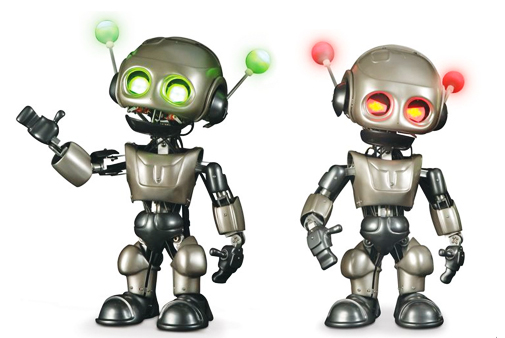 This is what you'd look like as a robot. Seriously.
This is a custom made-to-order personal robot with a price tag of $65,000 ea.
Why so expensive? Well it's the first robot that conveys your real emotions and realistic movements. It's controlled easily, and entirely by you through the use of a pinhole camera, microphone and personal control center. Yippee!
I just wish it had fingers. There's no way I can have this thing show up to work for me and fool people with hands like that.
Besides, the antenna is way way too small.
If you know what I'm saying.
More details after the jump….
This is the robotic puppet that conveys nuanced emotions controlled by its operator from a remote command center. Using a combination of eye expressions, antenna colors, body language, and the digitally modulated voice of its operator, it expresses five feelings–happy, confused, angry, sad, and embarrassed. The puppet stands on its integrated stage which conceals 19 motors that control the puppet's realistic animated movements. The puppet is remotely controlled by an included tablet PC from up to 30′ away. Owners adjust the emotions of the puppet by tapping the tablet's screen with a stylus–perky antennae, fully bright green eyes, and an upright torso imply happiness, while drooping antennae, half-filled blue-colored eyes, and a slumped torso and a downturned head convey sadness. A microphone and pinhole camera allows an operator to see and hear what the puppet observes through the PC's screen and a headset. Real-time responses to questions are modulated by the included digital stereo processor which pitch-shifts the operator's voice, played through two speakers built into the stage while the puppet's mouth moves.
• Made from an aluminum skeleton with a 3D-printed ABS plastic shell
• 18 multicolor LEDs in each eye and one multicolor LED in each antenna
• Plugs into AC
• Built to order.
Get your personal robot here and buy me one too while you're at it
Tweet
Pin It