Here at One More Gadget we like lists. Lots of them. You might say one day we'll eventually have a list of our lists. Here's a list of the most glorious list of bacon things imaginable in the Greatest List of Everything Bacon.
1. Bacon Gumballs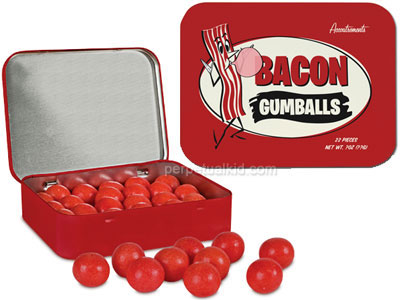 Bacon gumballs, there's nothing tastier than the actual feeling of chewing bacon. It's quite brilliant to realize that the swallowing part isn't even necessary – it's the chewing that's makes it a true bacon experience.
Bacon Gumballs with several hours of bacon chewing can be found here
2. Bacon & Egg Breakfast Bandages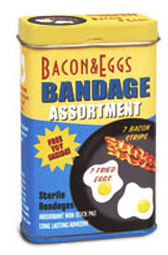 There's a certain magical healing power to bacon. Just place a sexy strip of bacon on your small wound and in a few short days, possibly a week, the wound has magically disappeared.
Each metal tin contains two sizes of vinyl, adhesive bandages. Includes seven long bacon strips and seven fried eggs with sterile gauze. That should last you quite awhile. Unless you find yourself fighting often at the breakfast table for that last strip of bacon. Which I do.
All the time.
I should probably be buying these at Costco. Bulk section.
Although this is similar to the bacon band-aids we reviewed before, these have the added bonus of eggs. And no injury is complete without it.
Note:  This product contains natural rubber latex which may cause allergic reactions.
The most important band-aid of the day – Bacon & Egg Breakfast Bandages here
3. Jia Jem and her Bacon Dress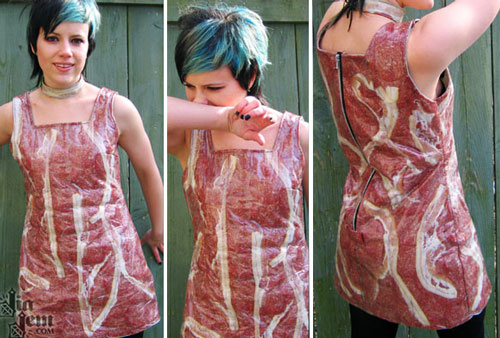 Honestly, there's nothing hotter than a girl with bacon unless it's a girl IN bacon. It's basically an instant classic. Jia makes all sorts of cosplay outfits and from time to time makes something extra awesome like this bacon dress. I can safely say she absolutely rules every costume and Halloween party she goes to.
Check out more photos of Jia and her bacony costumes here
4. Bacon Watch
The bacon watch always has an answer for "What time is it?"
The answers bacon. Always.
Always know that it's time for bacon here at McPhees
5. Bacon iPhone Case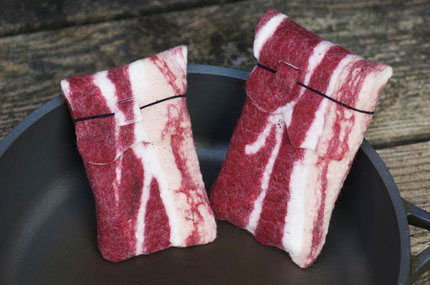 This clever entrepreneur has jumped on the bacon train and has made these awesome iPhone Bacon cases. They are fuzzy and they make me hungry.
The Bacon Case is available on Etsy here
6. Bacon Skateboards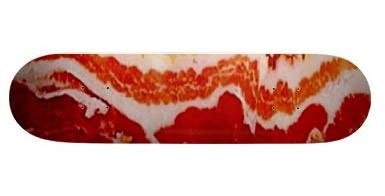 If you like bacon and skateboarding, the logical thing to do is combine them. Having this beautiful artwork on your board will make you feel like you are riding a magical carpet of bacon. And all your friends will follow your awesomeness.
Get your Bacon Skateboard Decks here
7. Fuzzy Bacon Strip Magnets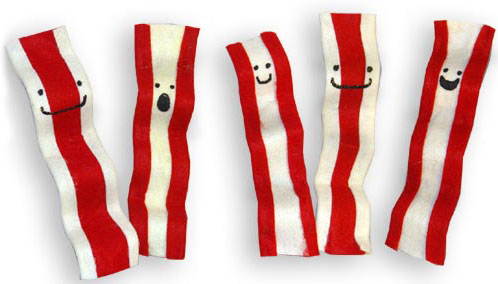 No fridge is complete without bacon. Inside and out.
Get the bacon fridge magnets here
8. Bacon Mints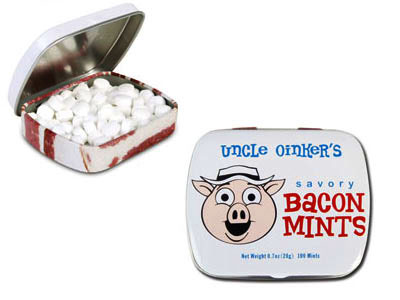 Forget about mouthwash. Throw away your perfumes. A little tip for the ladies out there, these mints drive men wild.
Bacon mints with their savory flavor can be found here
9. Uncle Oinkers Gummy Bacon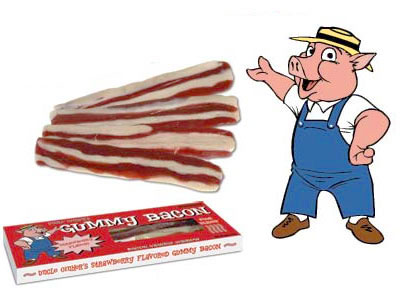 Look at this. It's basically a win-win situation. It looks like bacon, it feels like bacon, and it tastes like strawberries. What did I tell you? Genius.
10. Bacon Flavored Dental Floss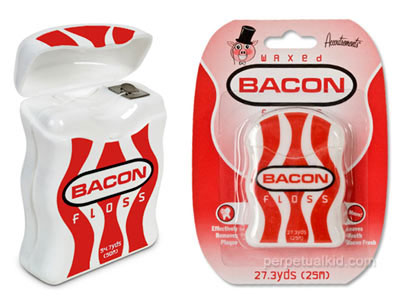 27.3 yards of bacony goodness. If this was invented sooner, cavities would just be a myth. I know I would never forget to floss.
11. Bacon Air Freshners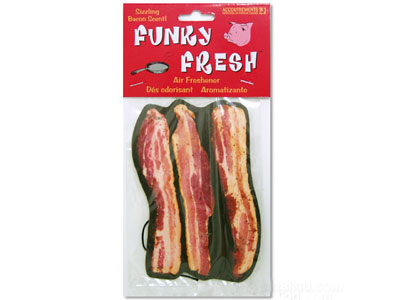 I'll let you in on a little secret. I have lots of friends because I keep one of these on me at all times. Just saying.
Get your own bacon air freshners here and make some true friends
12. What would bacon do? School Folder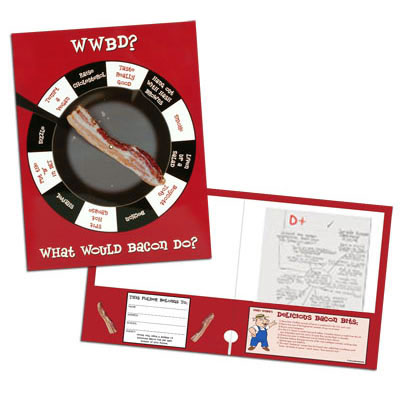 If you've read this entire list so far, the question is, what wouldn't bacon do? And honestly, using this not only will help you succeed at school, but it will help you succeed in life my friends. Remember that.
Get your own bacony organizer here
13. Bacon Jelly Beans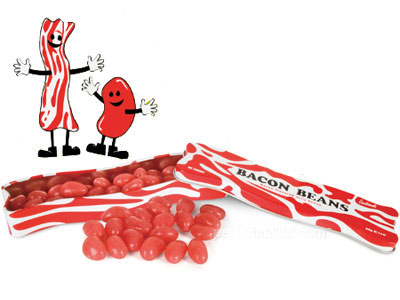 The unity between the bacon and the bean makes my eyes tear up. It's so beautiful.
Get your own Bacon Jelly Beans Here
14. Bacon and Egg Hand Bag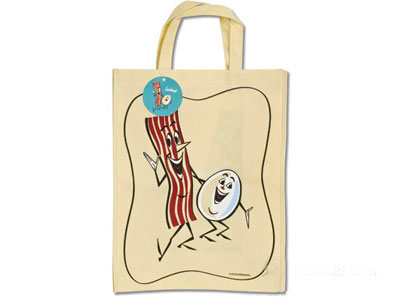 BFFs. Carry home your bacon in style with this environmentally friendly, reusable shopping bag.
Get your own Bacon and Egg reusable bags here
15. Bacon Soap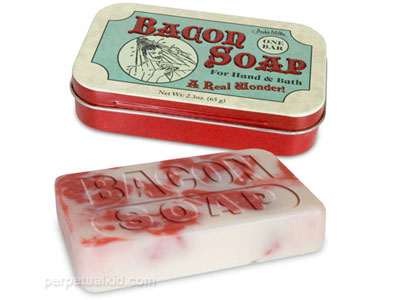 If you have ever seen the movie Fight Club, this bacon soap is the real deal. It's a pretty natural transition to use some fatty bacon to make possibly the best bars of soap in existence. Nothing cleans like bacon.
16. Bacon Tuxedo Gag Gift Box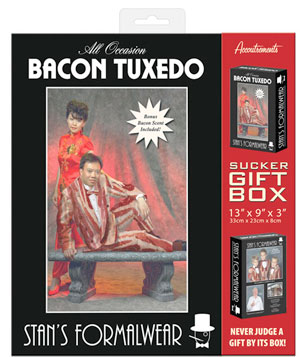 A part of me wishes this wasn't just a gag gift box and actually included a bacon tuxedo. Someone asked me what I would possibly do with a bacon tuxedo. My answer is anything. I could do anything with a bacon tuxedo.
I could ace any interview or put James Bond to shame. When you are wearing a bacon tuxedo you basically have the right to do and get away with whatever you like.
Get your gag gift box here and give the gift of bacon
17. Mr. Bacon VS Monsieur Tofu Action Figures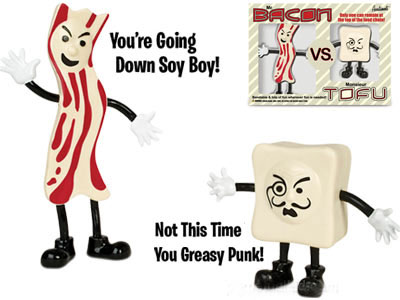 We live in a time where bacon continually battles tofu to make it to the plate. Reenact this daily battle with these rubbery action figures. And if you have any decency, Mr. Bacon will win every time.
Get your own Soy Boy action figures here
18. Bacon Wallet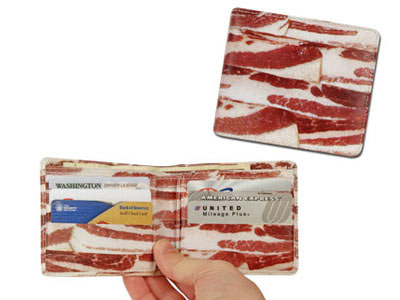 The Bacon Wallet. Great for money, perfect for bacon. Whipping this wallet out pretty much makes me the coolest person in the room (if I wasn't already) every single time. But the best reactions are when I whip this bad boy out when I'm buying bacon. Instant classic.
Get your own Bacon Wallet here
19. Complete your ensemble with the Bacon Belt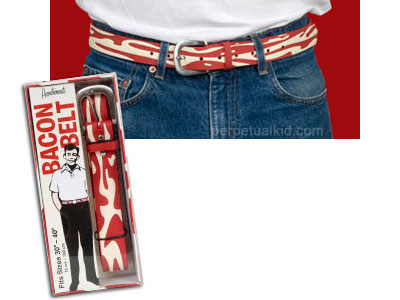 It's true. It doesn't matter what you are wearing – bacon goes good with everything. The Bacon Belt also comes with extra notches. Just in case.
20. Bacon Lip Balm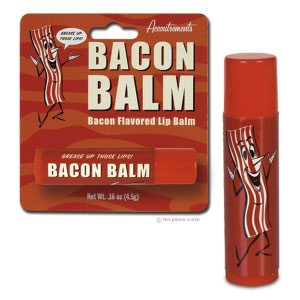 There is no greater feeling than licking your lips and tasting bacon. But if you think this is awesome, we also reviewed some other bacon lip balms here.
21. Bacon Flavored Toothpicks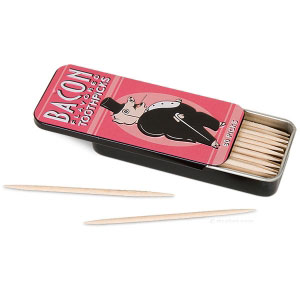 Nothing better to get that last piece of bacon out of your teeth than a bacon flavored toothpick. The thing that gets me about this is the tin. He's so proper. And the tux, so slimming. I dunno about you but I could easily become one of those guys that has a toothpick in his mouth at all times. If it tasted like bacon anyway.
22. Mr. Bacon T-Shirt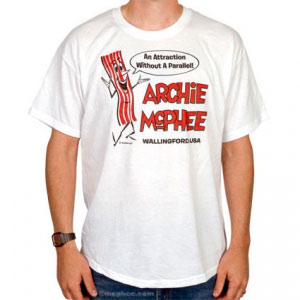 McPhee's have jumped on the bacon train and have made these t-shirts to celebrate bacon. Not too shabby.
23. Bacon Placemat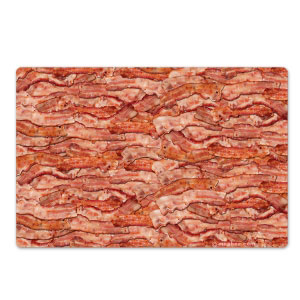 At first I thought this was really disgusting. But after starring at it a few hours I have decided that it's just the right amount of bacon.
Bacon placemat from Mcphees here
24. Baconnaise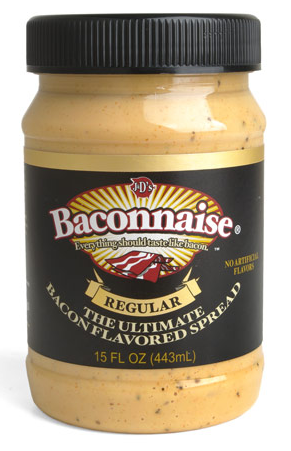 Baconnaise. The sweet sweet nectar of the Gods. Perfect for sandwiches, french fries, and hmm, a spread for a BLT perhaps? Lethal! Lethally delicious that is.
*Thanks to Tee_Lee for the tasty tip!

25. Bacon Water

This is nuts. It's actually a premium water for cats and dogs. But come on people. Dog's and cats have like 2 taste buds and lick their butts. It's water and it tastes like bacon. It's for people.
26. Bacon Vodka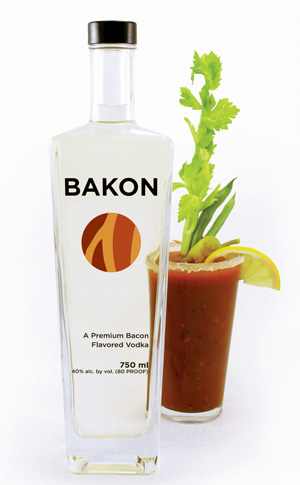 When the government wonders why spending on AA meetings have gone up, look no further than liquor that tastes like bacon.
27. Mr Bacons Big Adventure Board Game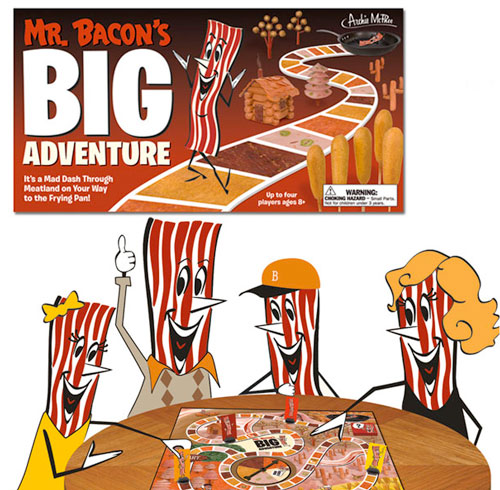 You guessed it. I saved the best for last. Soon to become one of the most popular board games of all-time, you can now follow Mr. Bacon and his big adventures with the Mr. Bacon's Big Adventure board game! It's a fun fast-paced adventure game through Meatland. Your main objective is to get to the frying pan. Ah yes. Nothing brings a family closer together than bacon and board games.
Buy Mr. Bacon's Big Adventure Board game here
Got a bacon gadget or bacon thing to add to the list?
Fill out our contact form and tells us about it!
Tweet
Pin It