Promoting your company can be really stressful if you don't know what to do. Fortunately we've found a place that has some of the most unique promotional stress balls around. You're sure to find one that will fit your brand perfectly, check 'em out!
20. Great White Shark Stress Ball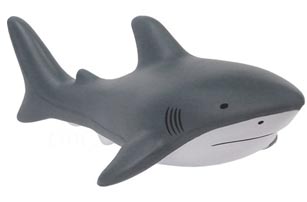 The best lure for customers is a cool giveaway. So why not slap your logo on one of the greats? From pet stores to competitive concepts, the Great White Stress ball is a promotional tool that packs some serious bite.
Bait your clients with Shark Stress Balls here
19. Fire Hydrant Stress Reliever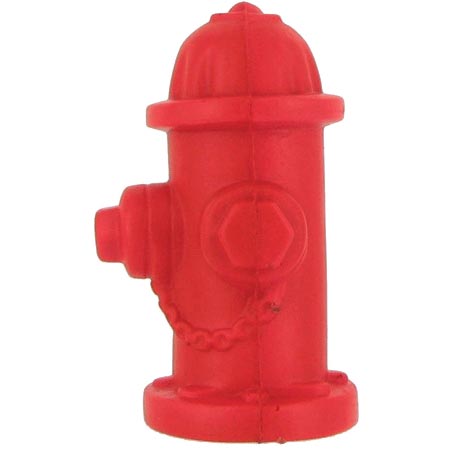 Fire halls, water companies, pet stores, doggy day cares. Yup, a fire hydrant can be used for a lot of things, and if you have a spare one you can always pass it along to the worlds smallest dog.
Get a leg up on the competition with your fire hydrant stress balls here
18. Magic Wizard Stress Ball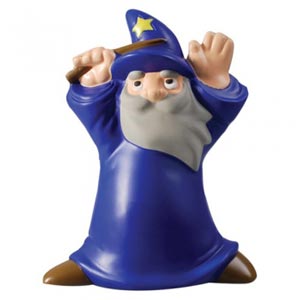 It's not every day you see people handing out wizards. But if someone put their logo on this guy I'd be sure to check out their website. I'll be sure to use this guy the next time I'm looking for a new apprentice.
Watch customers magically appear, get your wizard stress balls here
17. Sumo Wrestler Stress Ball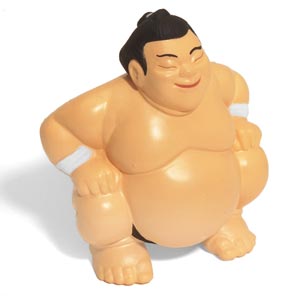 Opening up a new sushi restaurant? I'd go there if I saw a logo on this guy's stomach. The best thing about this guy is you can poke his squishy tummy all day and he can't do anything about it.
Tackle new business challenges and get your sumo wrestler stress balls here
16.  Retro Rocket Stress Ball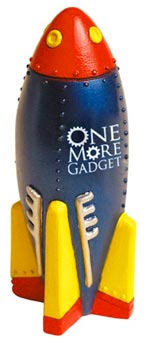 This retro stress ball is awesome. Retro is in and these babies will go fast.
Launch your business with Retro Rocket Stress Balls Here
15. Horse Stress Ball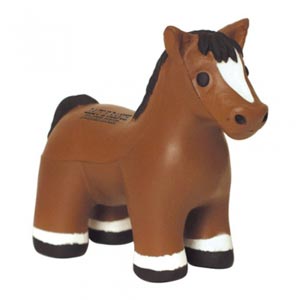 Saddle up and promote your business the cowboy way. If you're old-fashioned, don't be afraid to try something new like this, the response will turn your trot into a gallop.
Giddy-up and get your horse promotional stress balls here
14. Moon Stress Ball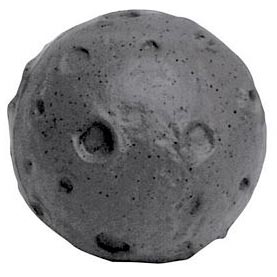 Get results that are out of this world with this stress ball and watch your clients go over the moon. Okay okay, maybe these puns completely eclipse the coolness factor of this product. But how many businesses have ever dreamed of putting their name on the moon? Exactly, you really can't go wrong with this stress ball. So go ahead and moon your customers.
Reach for your moon stress balls here.
13. Hockey Puck Stress Relievers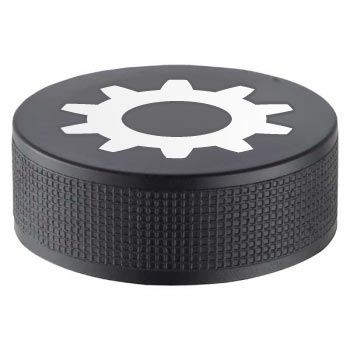 Here's a cool stress ball that really scores big. And to top it off, this hockey puck won't knock your teeth out when it hits you in the face. Can you say 'unique dentist promotion'?
Sweet Georgia Brown! Grab your hockey puck stress balls here
12. Knight Stress Balls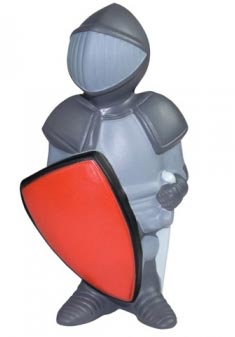 Promotional items to the rescue! This knight represents quality and class, so be sure to pick this guy when promoting your products. He won't even mind being used for furniture promotions, like round tables for example.
Honor your clients by grabbing some Knight Stress balls here
11. Orange Stress Ball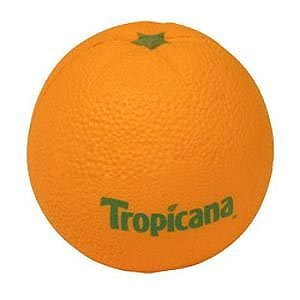 Clearly this is the best, simply because it's orange. But imagine handing these out on a street from big produce crates? This would definitely attract a buzz. You don't even need to be selling orange juice to use these, why not something creative like farmers markets or travel vacations to California or Florida?
Orange you glad you found us? Grab an orange stress ball here

10. Hula Girl Stress Ball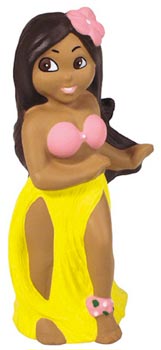 Speaking of trips, I'd be sold on a trip to Hawaii if someone handed me this Hula Girl Stress Ball. But I also can imagine it would work great for car insurance or auto accessories too. Heck, I think anything sun related, tan related or surf related would go great with her as well. Aloha great promotions!
So easy it feels like a vacation, get your Hula Girl Stress Balls here
9. Donkey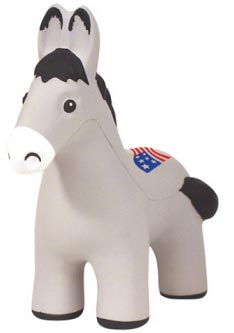 Politics aside, we can't forget the donkey is a hard working animal. It only makes sense to use this guy for companies that are on the move. Think about it.
Don't be a Jack Ass, get your Donkey Stress Balls here
8. Ice Cream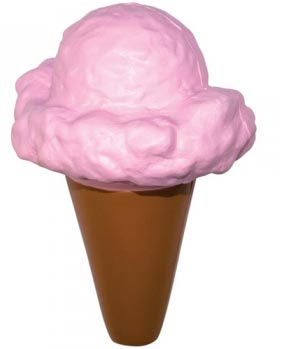 Everyone loves ice cream. And it's also a fact that everyone is going to love an Ice Cream Stress Ball. It's perfect for any company that offers services to treat their customers.
Own the cone, get your Ice Cream Stress Balls here

7. Pedestal Stress Balls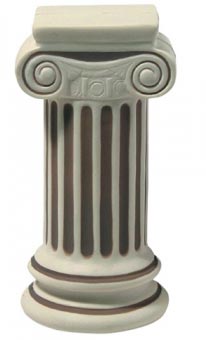 Put your business on display with this stress ball. And if you can't decide what you could use it for, just take a little from 'Column A' and a little from 'Column B'. Garden ornaments, interior design, travel to Europe, public speaking, you name it, it works.
When in Rome, promote like the Romans do, get your pedestal stress balls here

6. Astronaut Stress Balls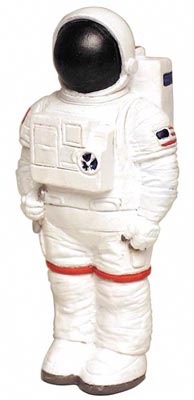 One small step for your promotions, one giant leap for your business! There's a universe of possibilities with this one.
Take the first step and get your Astronaut Stress Balls here

5. Parrot Stress Balls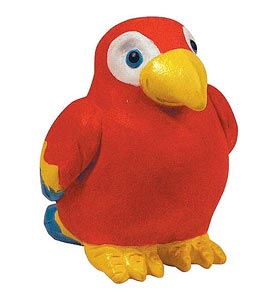 Everyone's talking about these guys. From crackers to pet stores, tropical trips and even speech therapy clinics, this little guy wants to talk about your business.
Polly want to promote your business? Grab your parrot stress balls here.
4. Roadster Stress Balls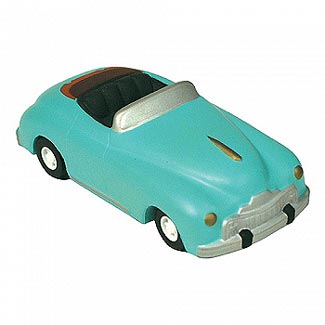 Drive your sales up with this Roadster Stress Ball. Not only is this car pretty awesome, the wheels also move! So if you restore vintage cars, or even have a retro diner or café, this is the stress ball for you.
Accelerate your promotions, grab your Roadster Stress Balls here

3. Red Brick Stress Balls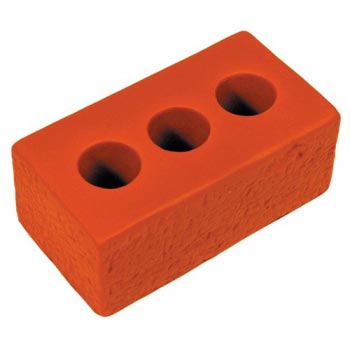 Builders, contractors, developers and even hardware stores can use this Red Brick Stress ball. Take the worry out getting your name out there and start the foundation for success.
Grab your Brick Stress Balls here
2. Buddha Stress Balls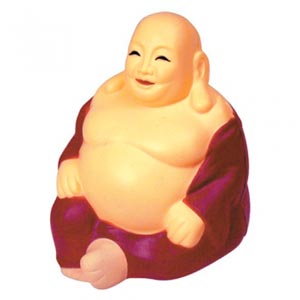 In the true spirit of relieving stress, this Buddha stress ball does all the work for you.
Relax, get your Buddha Stress Balls here
1. Retro Robot Stress Ball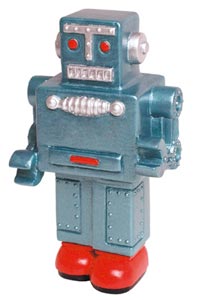 I think we just saved the best for last. The Retro Robot Stress ball is perfect for gadget lovers. The hardest part about putting your logo on this guy is the part where you have to give him away.
Get your way cool Retro Robot Stress Balls here
Wow, what a list. I feel pretty relaxed now.
Want more cool promotional products? Check out rushimprint.ca for everything else.
Tweet
Pin It