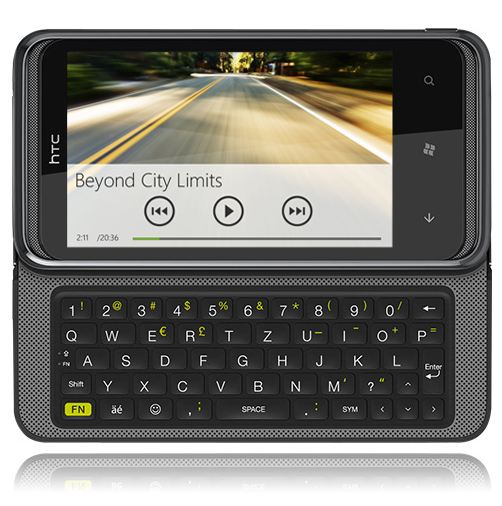 It's the HTC 7 Pro Mobile Phone. We know it's from Windows and we know that with everything it does, it does it pretty fast. We checked one out and put it to the test against the big boys, the Blackberry and the iPhone to see how it stacked up.
Taking Care of Business
This phone actually does wonders with all your documents, allowing you to easily open and edit them in a snap. One thing that's also great is the ability to organize and stay organized with it. I imagine that this can actually replace a computer if you really needed it to. That's one up on the Blackberry and way ahead of what's possible with the iPhone as far as office documents go.
Usability

The HTC 7 Pro has some interesting features with it's design.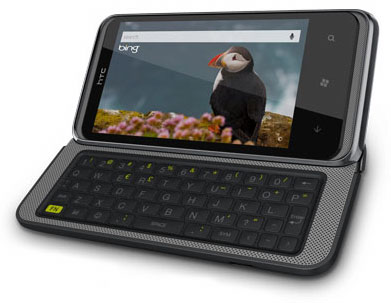 Not only does it have a qwerty keyboard for easier typing, the 3.6″ display screen tilts up so it's easy to watch movies while you travel absolutely hands-free. The screen quality is great, has a touch screen, gyro and an audio jack for headphones. Me likey.
Apps
The HTC 7 Pro doesn't have all the apps you'd find on a Blackberry or iPhone just yet, but they do have a market place where you can install them as quickly as the iPhone, and easier than the Blackberry. I noticed though that it had everything one would need to stay busy right on the phone already:
• Note Pad
• Picture Enhancer
• Audio Equalizer
• Flashlight
• 3D Weather
• Unit Converter
• Stock Watcher
Social, Photos, Music
The iPhone *for some crazy and wrongful reason* is known as the king of sorting photos, but you can't even create folders on the iPhone! However sifting through people and all your music is easy, but the HTC does a pretty nice job of making everything visually stunning as well. It took a little while to get used to but when you get good at it, it's pretty fast.
Another interesting thing is the gaming feature.  The HTC touch now brings the gaming experience from the Xbox straight to mobile with Xbox Live, so if you love your Xbox, you're going to freak out with this phone.
Overall this mobile phone is loaded with all the bells and whistles, a 5 mp camera, 720 HD video camera, bing maps (satellite view is awesome) and definitely stacks up with the others.
Hit the jump for full specs and cheap mobile phones
More Specs and Comparison Chart after the jump
Comparison Chart
HTC 7 Pro
Weight: 185 grams (6.53 ounces) with battery
Keyboard: Slideout Qwerty
Display Type: Touch screen with pinch-to-zoom capability
Display Size: 3.6 inches
Display Resolution: 480 x 800 WVGA
CPU Speed: 1GHz
Platform: Windows Phone OS 7
Storage: 8 GB
Camera: 5 mp colour, auto focus, flash, 720p HD video
BlackBerry Storm

Weight: 160 grams (5.64 ounces) with battery
Keyboard: Onscreen Qwerty
Display Type: Touch screen
Display Size: 3.25 inches
Display Resolution: 480 x 360
Storage: 18 GB
Camera: 3.2 mp colour, flash
iPhone 4

Weight: 137 grams (4.8 ounces)
Keyboard: Onscreen Qwerty
Display Type: Touch screen with pinch-to-zoom, retina display
Display Size: 3.5 inches
Display Resolution: 960 x 640
Storage: 16 or 32 GB
Camera: 5 mp colour, LED flash, 720p HD video at 30 fps
Check amazon or here for cheap 7 pro deals.
*Thanks to Tim for being so passionate about the phone and this review and for loving One More Gadget he snagged himself a light saber in our big giveaway!
Tweet
Pin It