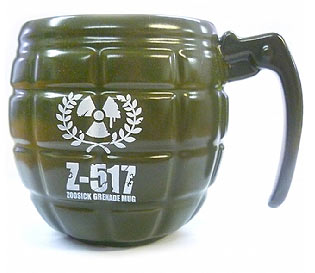 Here she is. The manliest coffee mug of all-time. Sure, that powdered coffee you put in there might just be powdered coffee, but it might just be gun powder. And if they think it's gun powder, let 'em. Because you are a man. And this is the manliest coffee mug of all-time.
This mug can hold 12 shots of espresso or what I like to call, the appetizer to my day. Because seriously, the business world is a battlefield and if I'm not armed with my morning caffeine, it's a scary place for everyone.
Grab your own hand grenade coffee mug here
* This mug made our list of the greatest coffee mugs around! Check it out here.
Tweet
Pin It