This wallet is woven using 25,000 stainless steel threads. Nice. The only stainless steel wallet in existence. It's basically the perfect gift for any rich person that sweats so much that a regular money clip will rust to pieces in just a few days.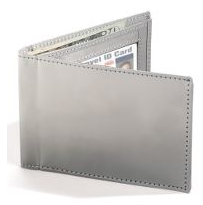 I do however appreciate that it's impervious to hackers and their magical magnetic information stripping technology. Apparently the signals (and radio frequencies) just bounce right off this puppy.
Note: Probably a good idea to keep this wallet in your back pocket – a few inches farther away from your nuts. Just in case.
Hit the jump for more info on the worlds only stainless steel wallet
Tweet
Pin It