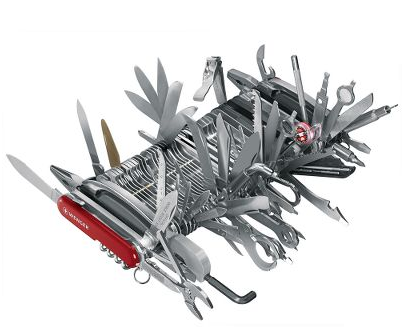 Holding the Guinness World Book of Records as the largest Swiss Army Knife in the world with over 87 tools and over 112 functions, its sure to be the perfect gift for the person who has…nothing. Not to say this knife has everything, I don't see a toothpick on it. Not that I'd actually want to hold that thing near my face to get out a piece of lettuce anyways, but what can you do.
Some of the functions:
Seven blades
Three types of pliers
Three golf tools (club face cleaner, shoe spike wrench, and divot repair tool)
25 flat- and Phillips-head screwdrivers
Bits
Saws
Wrenches
Bicycle chain rivet setter
Signal whistle
12/20-gauge shotgun choke tube tool
Combination fish scaler
Hook disgorger
Line guide tool
Cigar-cutting scissors
Laser pointer
Tire-tread gauge
Toothpick <–Oh my God it actually has one
Tweezers
and last but not least a Key Ring..yes because its a great idea to put more things in your pocket, like your house keys. You'd probably appear to be a skinny dude with elephantitis in his groin by doing this, and I can just imagine what a time you'd have going through security at the airport. "Is that a giant all-in-one swiss army knife in your pocket or are you just happy to be stripped searched?"
All of these only have a price tag of about $1400 dollars. But really, where else are you going to get all those useful tools in one giant piece of metal that fits in your pocket creating the most frustrating non-useful gadget ever?
Hit the jump to buy your very own Multi-Multi Purpose Swiss Army Knife
Tweet
Pin It