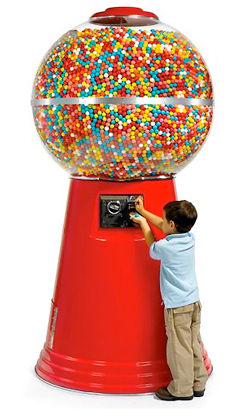 That's what she said.
This is probably one of the biggest gumball machines I've ever seen before in my life. While awake anyways. And just in case you can't have enough candy – it's for sale. I suggest you buy it for me since my birthday is coming up real soon. Don't worry, I'll share a couple.
You can have it for a cool $3,900.
That's what she said.
One day when I'm rich and make movies, I plan on buying this gumball machine just so Van Damme can drive a car through it while doing the splits. Can you win an oscar for the best action scene?
Get your jaw strengthening giant gumball machine here
Tweet
Pin It