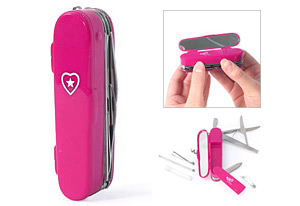 They let girls in the army too, so why not? The new Pink "Miss" Army Knife Kit is packed with everything you could possibly need. It's probably the perfect gadget for the girl that has everything. Or Dale from electronics.
In fact, I can't think of how many times a mirror and an LED light can come in handy during the course of a day. At least 2 times I say. Possibly more.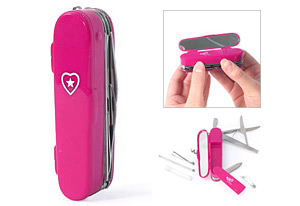 Here are some of the features:
Mirror
Flashlight
Scissors
Nail File
Tweezers
Pen
Pill Box
Perfume Bottle
Knife (this is noticeably dull, I'm thinking on purpose)*
Ruler
Bottle Opener
Screwdriver (flathead screwdriver is located on the end of the bottle opener)
Corkscrew
Safety Pin
Needle and Thread
Key Chain
Yup. I say that just about covers it. And just in case you hate pink, it also comes in purple and blue.
Get your own Miss Army Kit here

*Totally Kidding
Tweet
Pin It