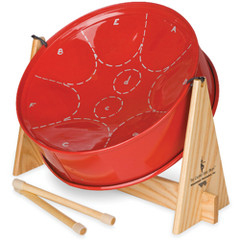 I'm sure it's the dream of most men to walk around town with a Steel Drum playing the copa, copacabana. So here's a cool take on the Calypso Drum for beginners, so you can learn all the hits quickly and easily, steel drum stylez.
Nope? Just me?
Alllllllllrighty then.
To convince you of the Calypso awesomeness here's one of my favorite verses of Copacabana by Barry Manilow I copied and pasted from the world wides internets, as transcribed by "Robin Hood." Clearly he appreciates a fine fine tune like myself:
Her name was Lola, she was a showgirl
With yellow feathers in her hair and a dress cut down to there
She would meringue and do the cha-cha
And while she tried to be a star, Tony always tended bar
Across a crowded floor, they worked from 8 till 4
They were young and they had each other
Who could ask for more?

At the Copa (CO!), Copacabana (Copacabana)
The hottest spot north of Havana (here)
At the Copa (CO!), Copacabana
Music and passion were always the fashion
At the Copa….they fell in love
On the verge of goosebumps people. On the verge.
Steel Drum Kit Features:
• Made by professional pan makers in Trinidad and Tobago
• This all-steel instrument is flame-tempered
• Hand-hammered to create the unique, dipped contour of the pan and the raised sections that form the notes
• Awesome
The only draw back is this kit is painted red. I'd have accepted orange, but red just doesn't seem Copa to me. I'll run it by Manilow and get back to you.
Update: Okay Manilow says Red is cool, very Copa he says, very Copa indeed.
Get your own Children's Steel Drum Kit here
Update: No Dale from electronics, they don't come in pink.

Tweet
Pin It