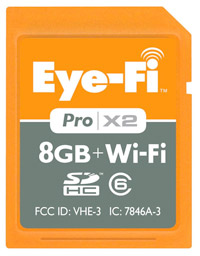 This is a great idea. And no, I'm not just saying that because it's orange.
Have you ever wanted to send those photos you take with your regular camera straight to a laptop or your mobile phone? Well this handy little flash card can do just that – without any wires at all.
By using this SDHC memory card, it instantly sets up a wireless network that you can connect to with your laptop or free downloadable app on your mobile phone.

Just take the picture and it instantly appears on your phone or wherever you want it to be. Fancy eh? And soooo simpo. Check out this fun video below as it shows you how it works.
Grab your own wireless memory card right here
Tweet
Pin It