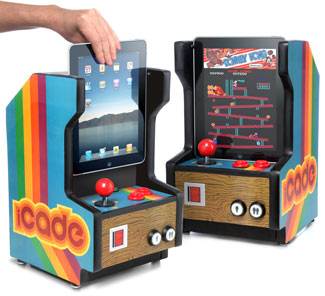 I'll admit it. When the iPad first came out I probably said it was just an over-sized iPhone, and otherwise useless. But luckily I'm man enough to admit when I'm kinda sorta too quick to judge. If I did say that. But I probably didn't.
Anyways, once again someone has invented another cool use for the iPad. This iCade machine comes with a free download of the iCade app from the iTunes store which includes over 200 classic arcade games!!
Simply slip your iPad into the holder and you have your very own desktop arcade machine. Hooray!
You can get your iCade here for a bargain
Here are some Features:

Beautifully retro styled, handcrafted wooden tabletop arcade cabinet and MAME emulator for your otherwise useless iPad
Play your favorite arcade games anywhere there's a table
Hundreds of games available from various online sources – not included in product!
Professional grade arcade stick and microswitch buttons rated for 10,000,000 uses
Authentic arcade controls connect to your iPad via a standard 30 pin dock connector
One and two player select buttons add authenticity and really work!
Integrated 2.1 dolby speakers and subwoofer in cabinet
Includes 10w USB power adapter
Separate iCade app required to use the cabinet controllers available soon from the App Store
Dimensions: 9″ wide x 10″ deep x 16″ high
Tweet
Pin It