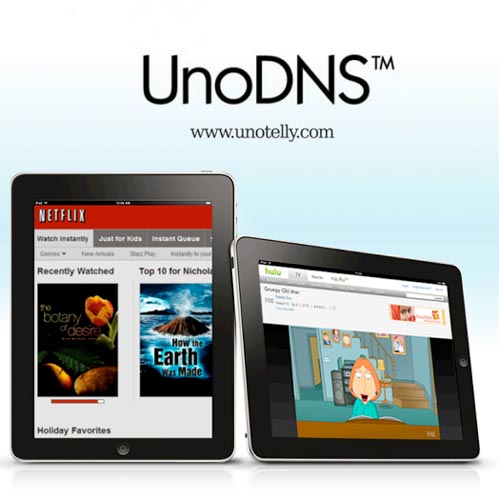 Introducing UnoTelly™, a great service that uses an UnoDNS to route your internet content through the states so you can use American content from anywhere in the world. It also allows you to view this content from all your mobile devices such as an iPad, iPhone and even through a PS3 or AppleTV.
It may sound complicated, but it's actually quite simple and it's also a fairly inexpensive service to get access to way more programming, like NetFlix USA, Hulu, BBC and even Pandora. Check out the video below to see how it works:
There's plenty more content as well, you can see all the available content on their website. It's also very easy to use and setup, upon subscribing they tell you a few quick steps and presto! You are good to go.
When I set it up, it only took me a few minutes on my Mac and I was using Pandora right away from my home in Canada. The speed is also quite impressive. When downloading content there is no delay, it's fast. Very fast.
This service is also useful for people in the UK, so I recommend checking it out. Be sure to click here to visit mobilephones.org.uk for a list of some good mobile phones that will work in the UK.
Grab the pricing chart and try a free trial of UnoTelly right here.
Tweet
Pin It