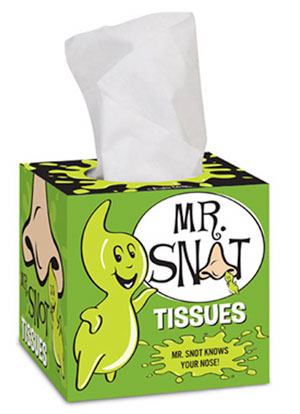 Well here's something slimy and awesome. It's the Mr. Snot Tissue box. When it comes to blowing your nose, there's no disguising it's disgustingness. This novelty tissue box isn't just a novelty, it actually does the trick! Just one amazing tissue does the job of two.
One might say it's like having a hanky always handy.
Yup, it's a slimy job, bur Mr. Snot is happy to do it. One nostril at a time.
And remember. It ain't easy been green. Unless you're Mr. Snot. Then it's not that hard.
Get it? It SNOT that hard?
Nevermind.
Nothing to sneeze at here! Get your own Mr. Snot Tissue Box right here
Or Purchase the minis from Amazon right here!
Tweet
Pin It